Naughty boy Riley Finch took some butt-slapping punishment from tall jock top Johnny Hands in the Spank This scene – Hands On. Here's some cheek-reddening pics from the clip, with descriptions of the action based on what Riley might have been thinking at the time.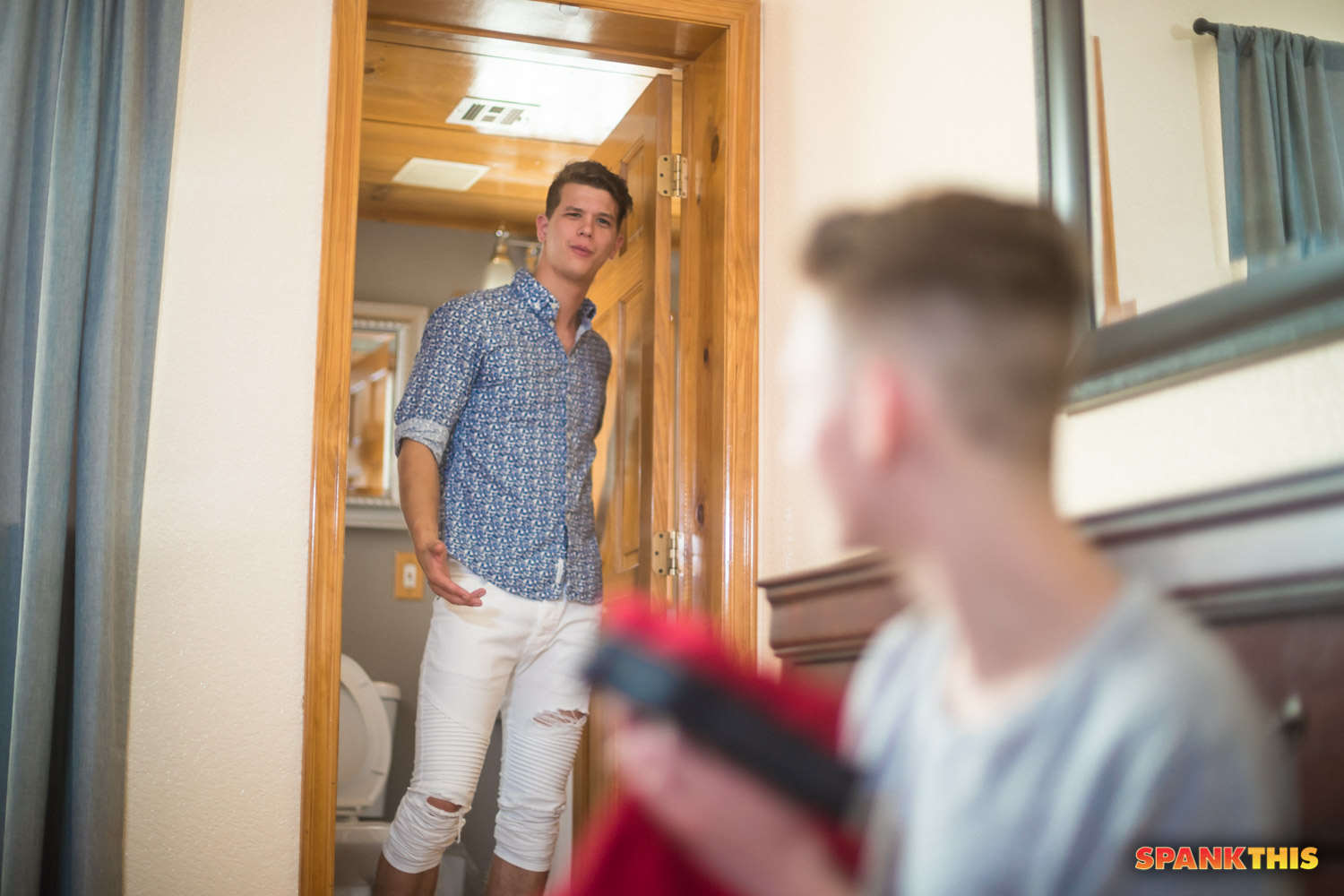 Ever since Johnny moved into the Helix Mansion I've had the biggest crush on him. He's exactly the type of guy I go for – tall, strong, masculine – the sort who looks like he could throw me around like a rag doll in bed one day, then treat me to a romantic meal out the next. So when I saw his underwear in a suitcase lying on the floor I just had to take the opportunity to have a sniff. Oops – Johnny caught me at it…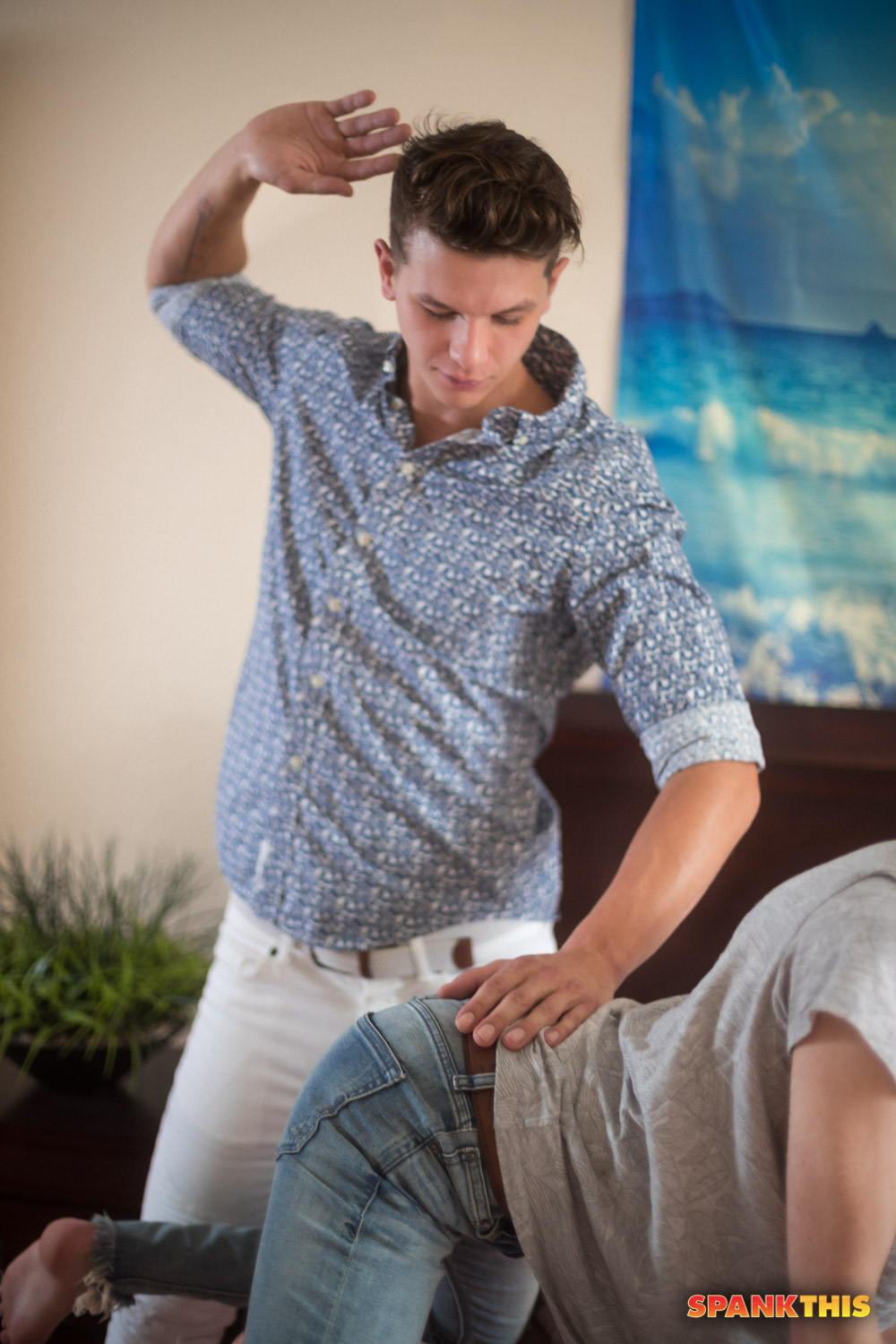 Oh wow. He seems really mad, like I've violated some unwritten code or something. I can really feel the strength in his arms as he bent me over the side of the bed. Ow! Johnny has started spanking my butt in my tight jeans – several quickfire hard spanks interspersed with some rubs and milder slaps. Is it wrong to be getting turned on by facing up to the consequences of my actions?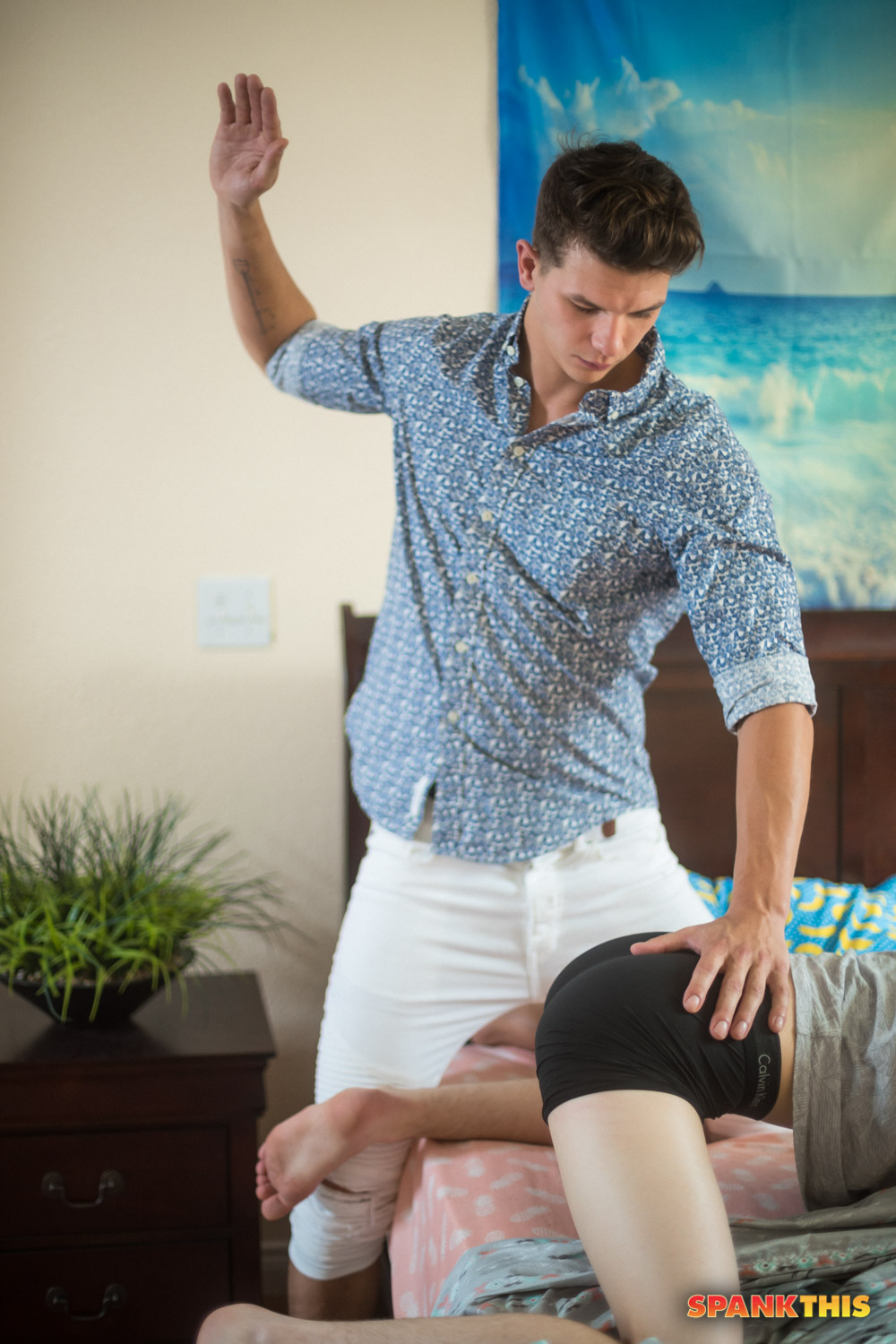 After a few minutes where it seemed like I might be getting off with an over-jeans spanking, Johnny decided I needed to really feel a bit more of his wrath. He made me take down my jeans and get back on the bed wearing just my boxer briefs. Quite a humiliating experience and one that's making my face cheeks turn red, not just my ass cheeks!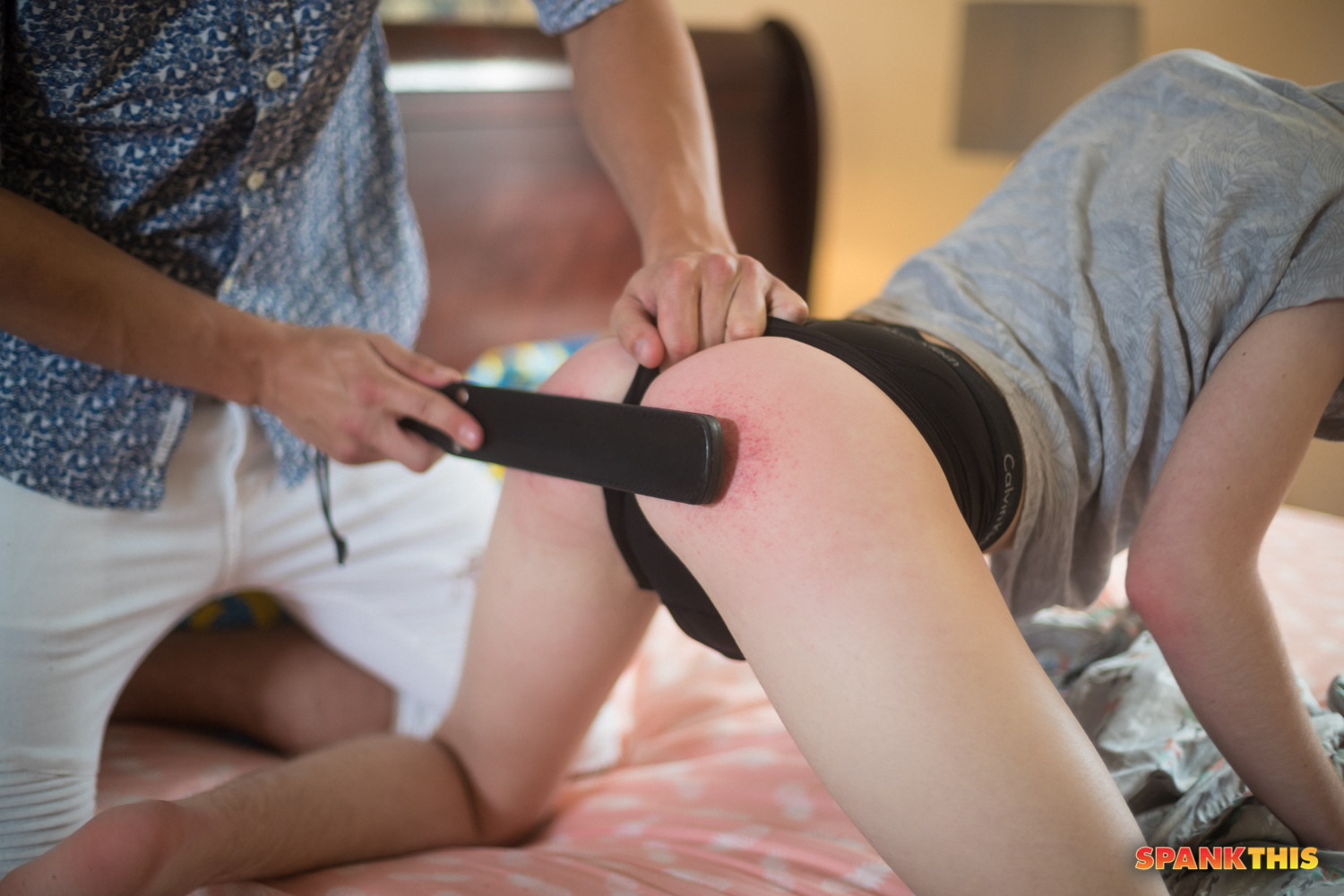 Oh my. Johnny's really going for it now. First of all he pulled up my briefs into a wedgie while spanking my pale white buns. Then he ominously walked over to his suitcase – the one I got his underwear from in the first place – and produced a leather paddle! Nothing like being prepared for every eventuality when you travel.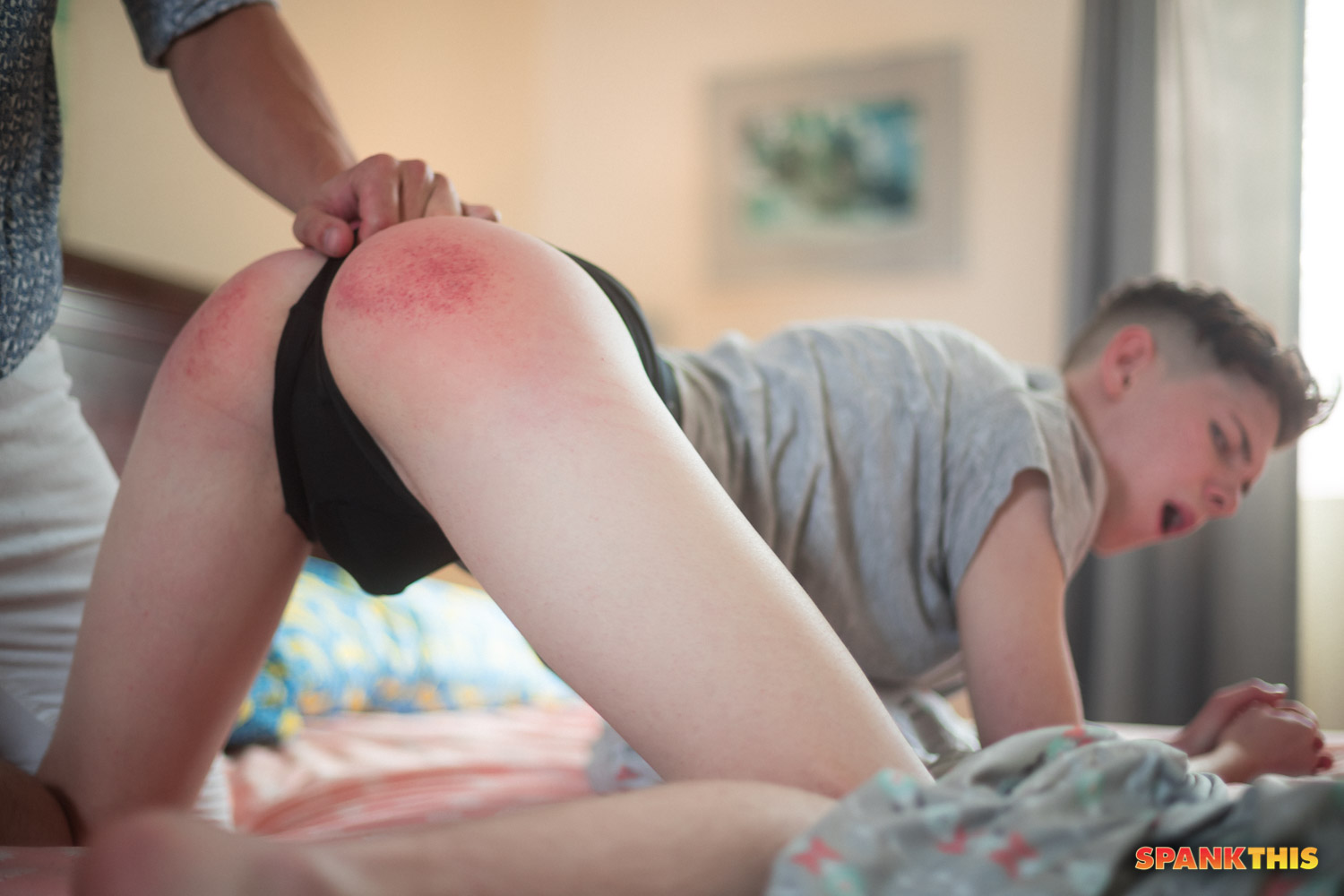 Ouch! That paddle really stings. I bet Johnny's had lots of practice at this, as he's certainly making me feel every slap and thwack. And I can't imagine what the other guys in the house are thinking must be going on with the noise the paddle's making as it marks my skin. But then again, as this is the Helix Mansion, maybe I can…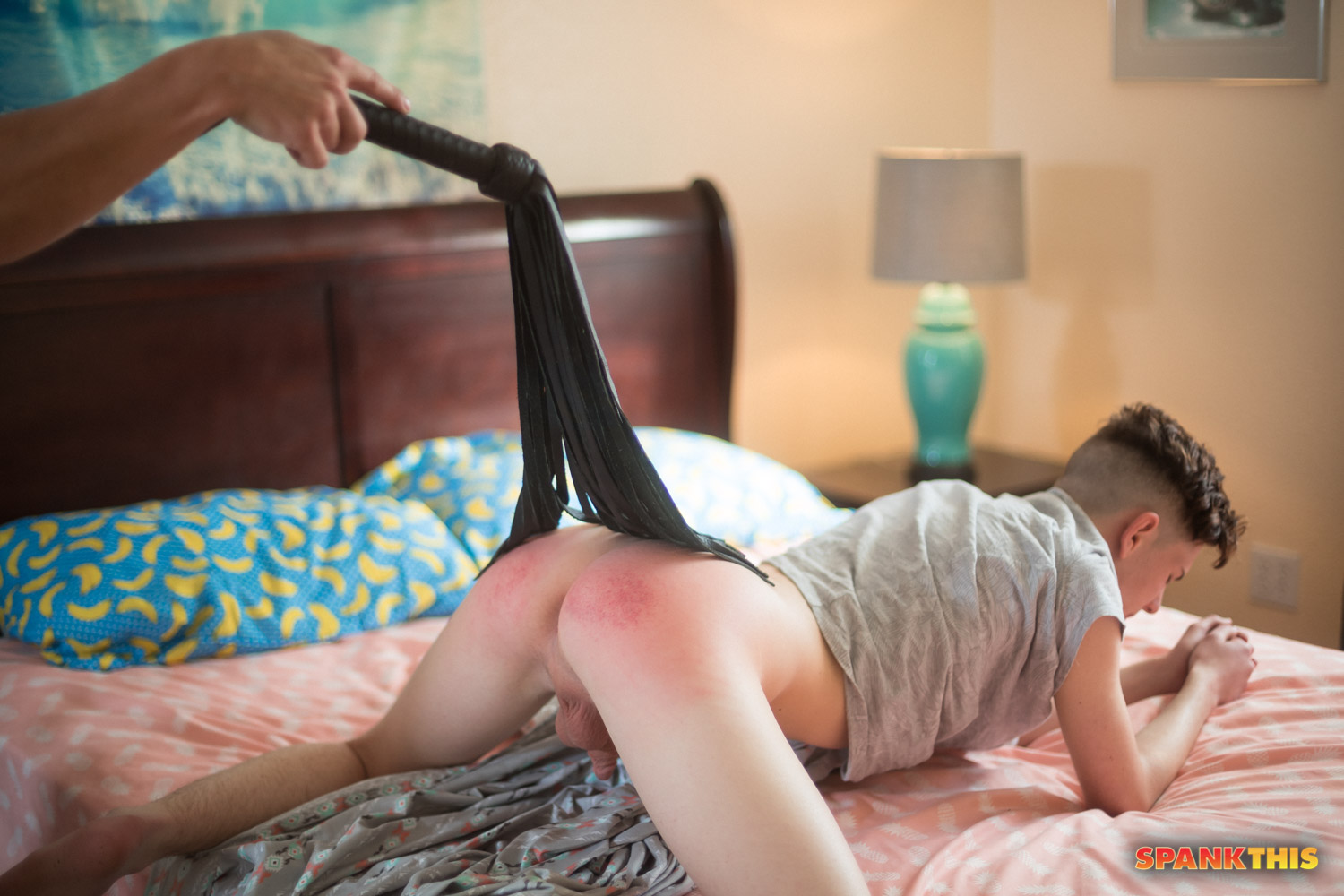 Now Johnny's made me take off my underwear and get onto all fours naked! I don't think I've been this embarrassed since I got that boner in class that time… Seems like he's got something special prepared for me now. Oww! The multi-tail whip he's brought with him is definitely one that would make most people think twice about misbehaving again. Not sure I can take much more of this.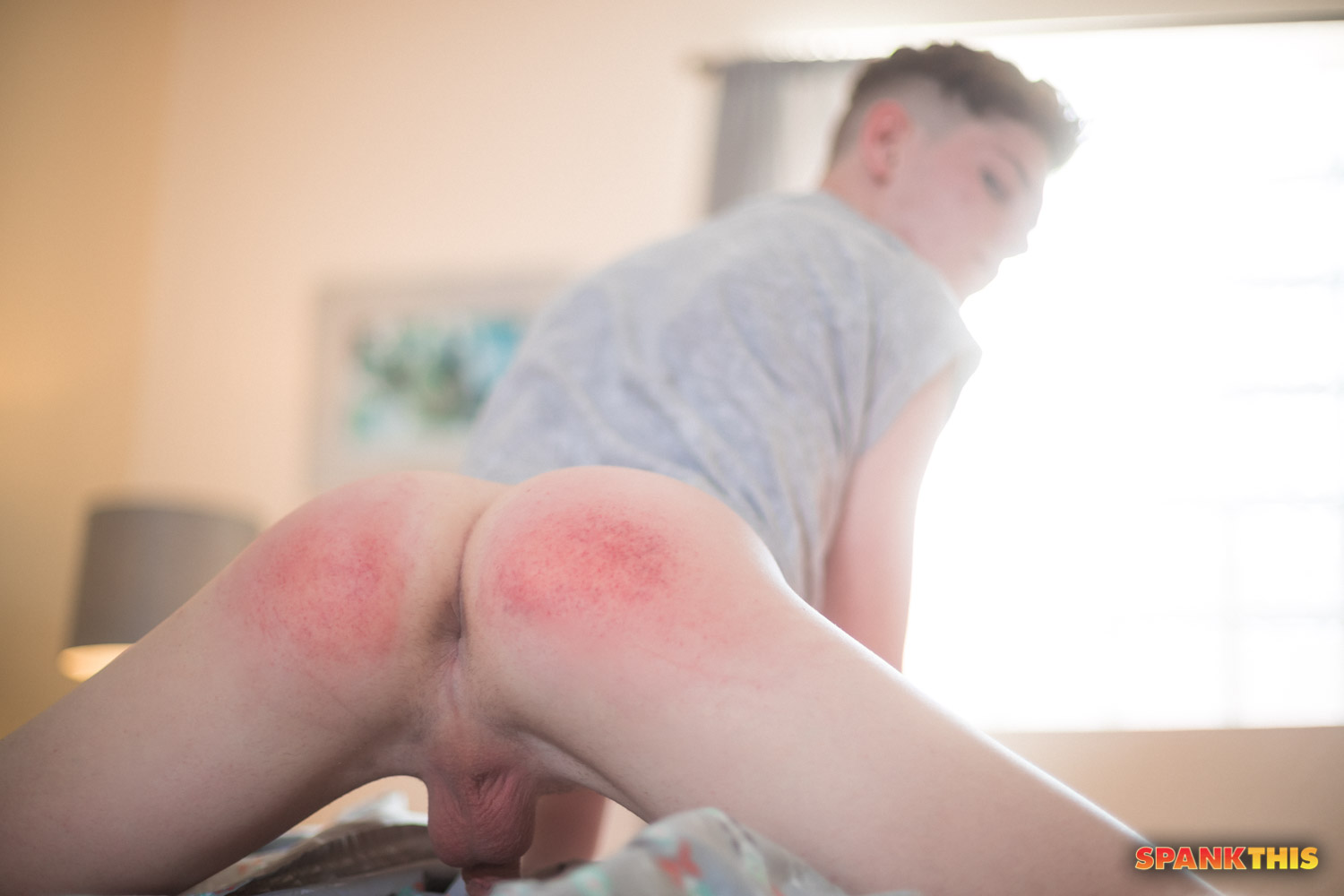 Phew. Finally it stops. After Johnny's relentless whipping I thought my ass was on fire. I can only guess what color it's become. I promise Johnny I won't ever do it again and run off to my room to see if I can find an icepack for my sizzling butt.
Wonder what I can let him catch me doing next time…?