If you're looking for a hot jock porn star, Corbin Colby certainly has a lot of things going for him. His face, hunky body, power and flexibility, and of course his fantastic kingsize dick. But there's another ass-et of his that many of you have cum to particularly admire – his big muscular butt. Here's a celebration of some of the scenes where Corbin's booty is shown off to its full advantage.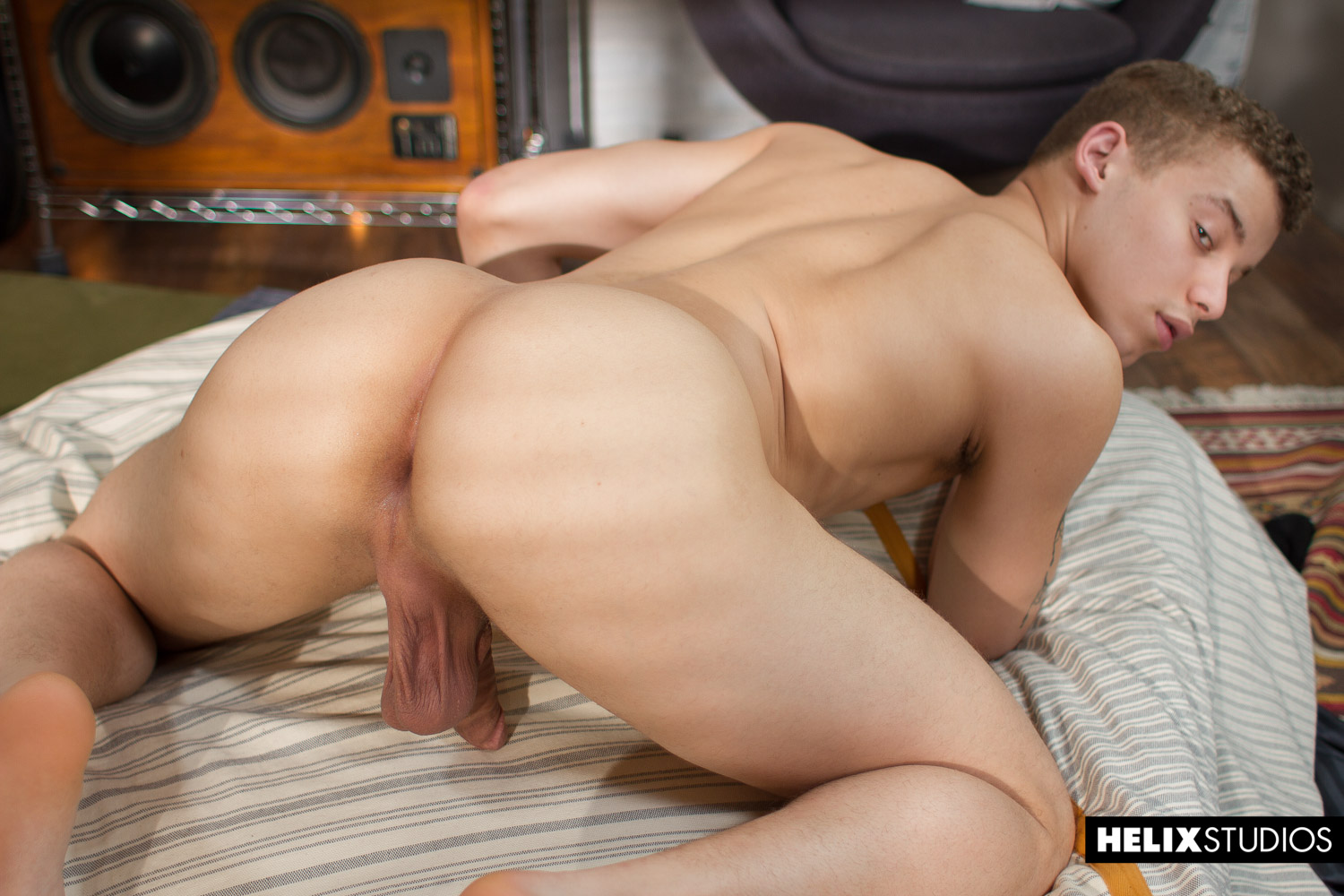 Protein was an eagerly-awaited pairing between Corbin and Helix's other big-dicked jock superstar, Blake Mitchell. Corbin's supersized buns are shown off very nicely in the pic above, taken from this scorching hot flip fuck scene between the 2 studs.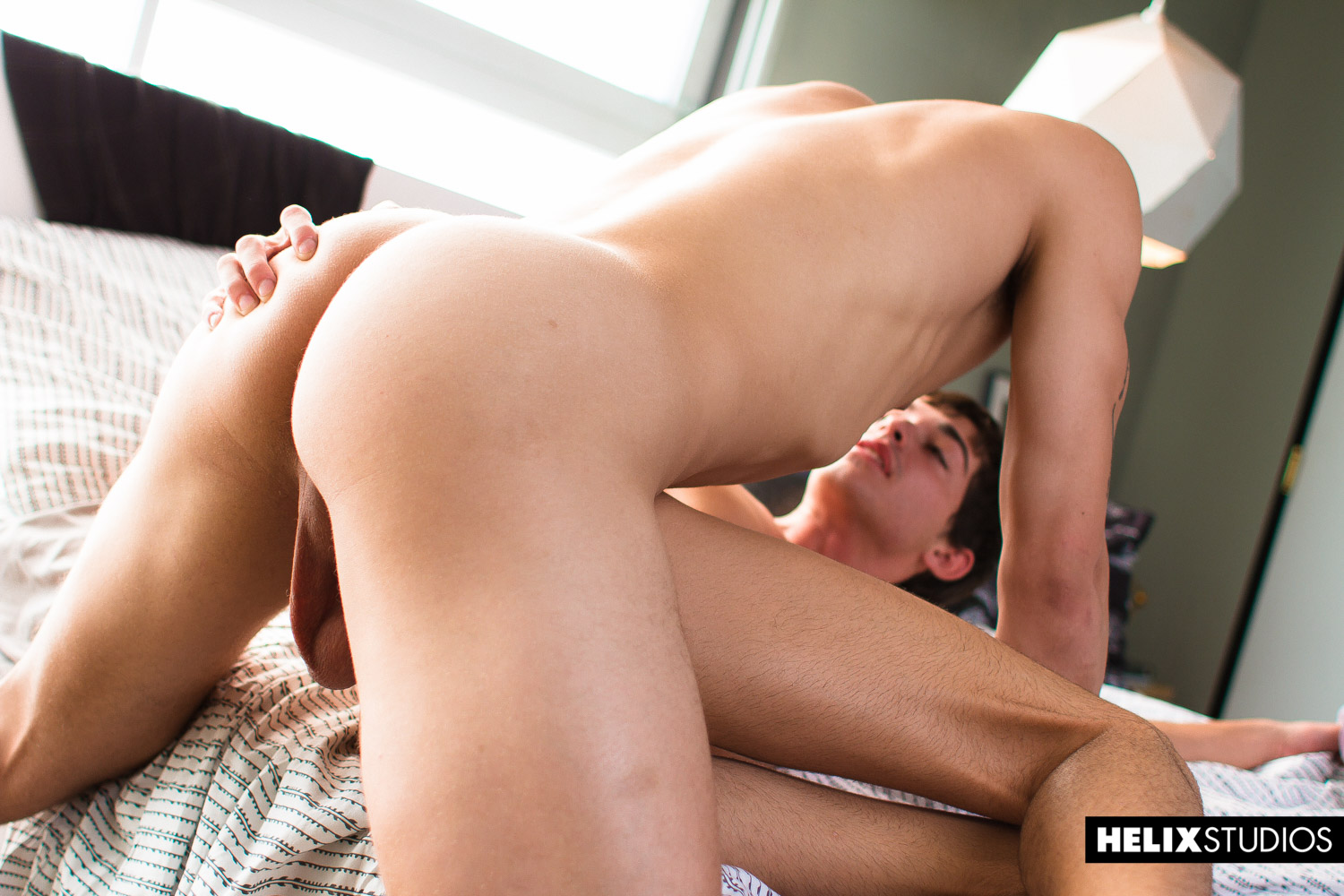 Of course, with Corbin's other impressively-sized body part, it's normal for him to be seen topping a twink – as in this image from the scene Carried Away where Grayson Lange is the lucky boy receiving a jackhammering from the burly hunk.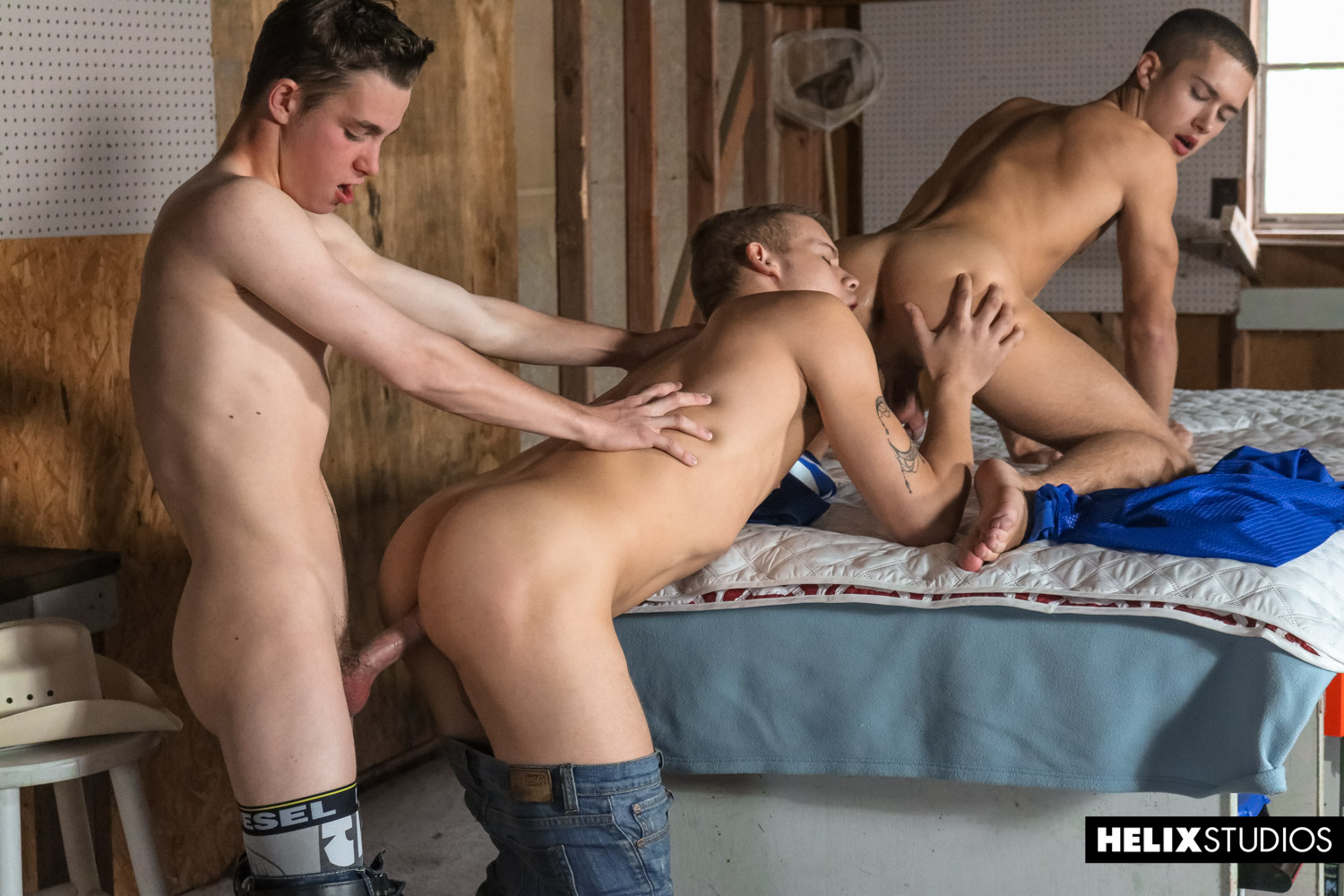 But Corbin's blessed with the kind of versatility that enables his brawny butt to take a good drilling as well as he gives one – as we can see in this pic from scene one of the film Tight Ends, where Colton James is the lucky guy who gets to fuck Corbin standing up.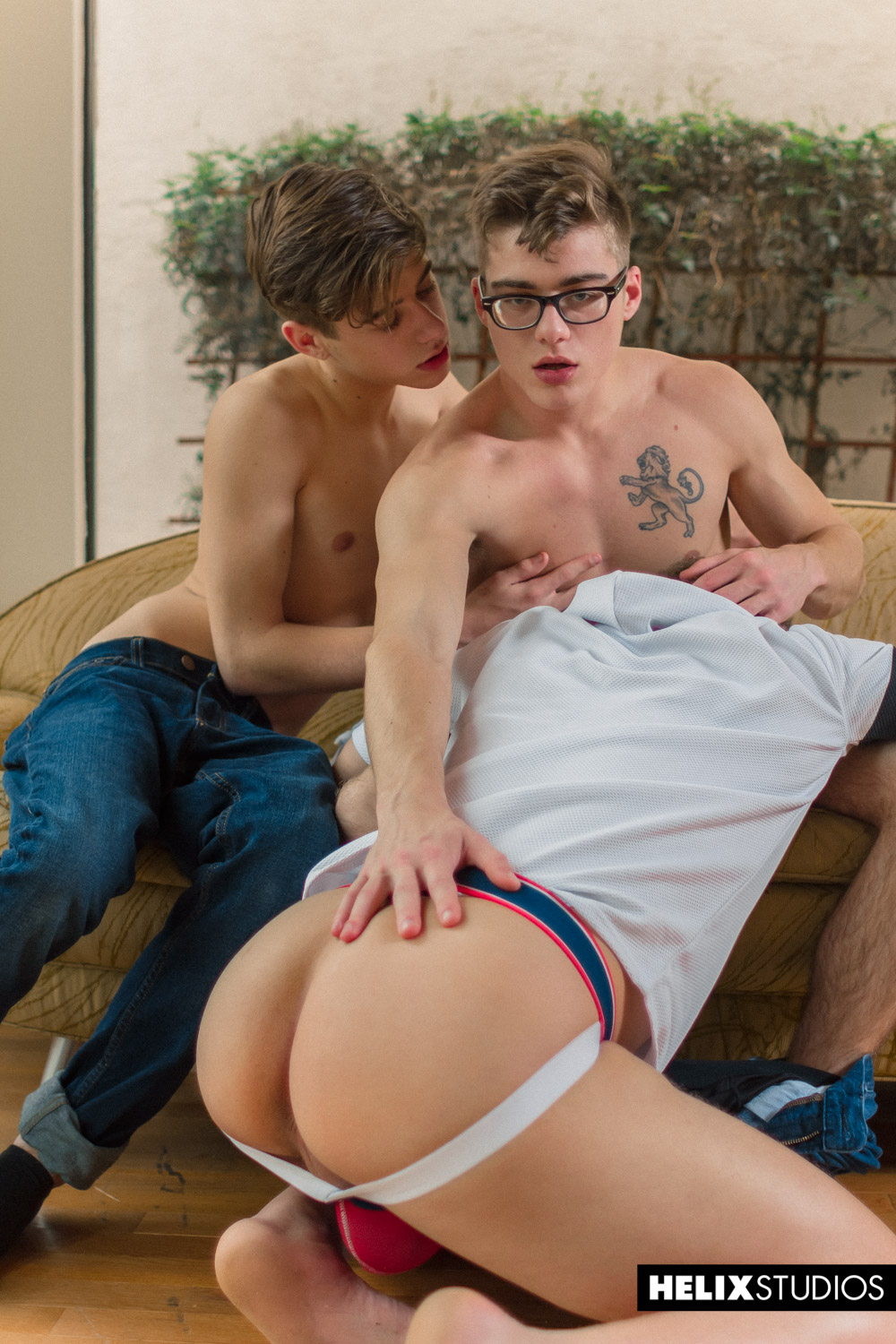 Another scene featuring Corbin on the receiving end of a good dicking is the 5 way orgy Breathe – also featuring Blake Mitchell, Joey Mills, Sean Ford and Wes Campbell – which climaxes in a glorious 5 man train fuck. Here's a shot of Corbin's ass being perfectly-framed in a sexy jockstrap.
Now we can see Corbin's ass being put to good use as a means of forcing his huge dick into uber twink Joey Mills' willing asshole in Big and Raw. With a tool that big, you certainly need a heavy piece of equipment to hammer it home – so it's just as well Corbin's powerful glutes are up to the job.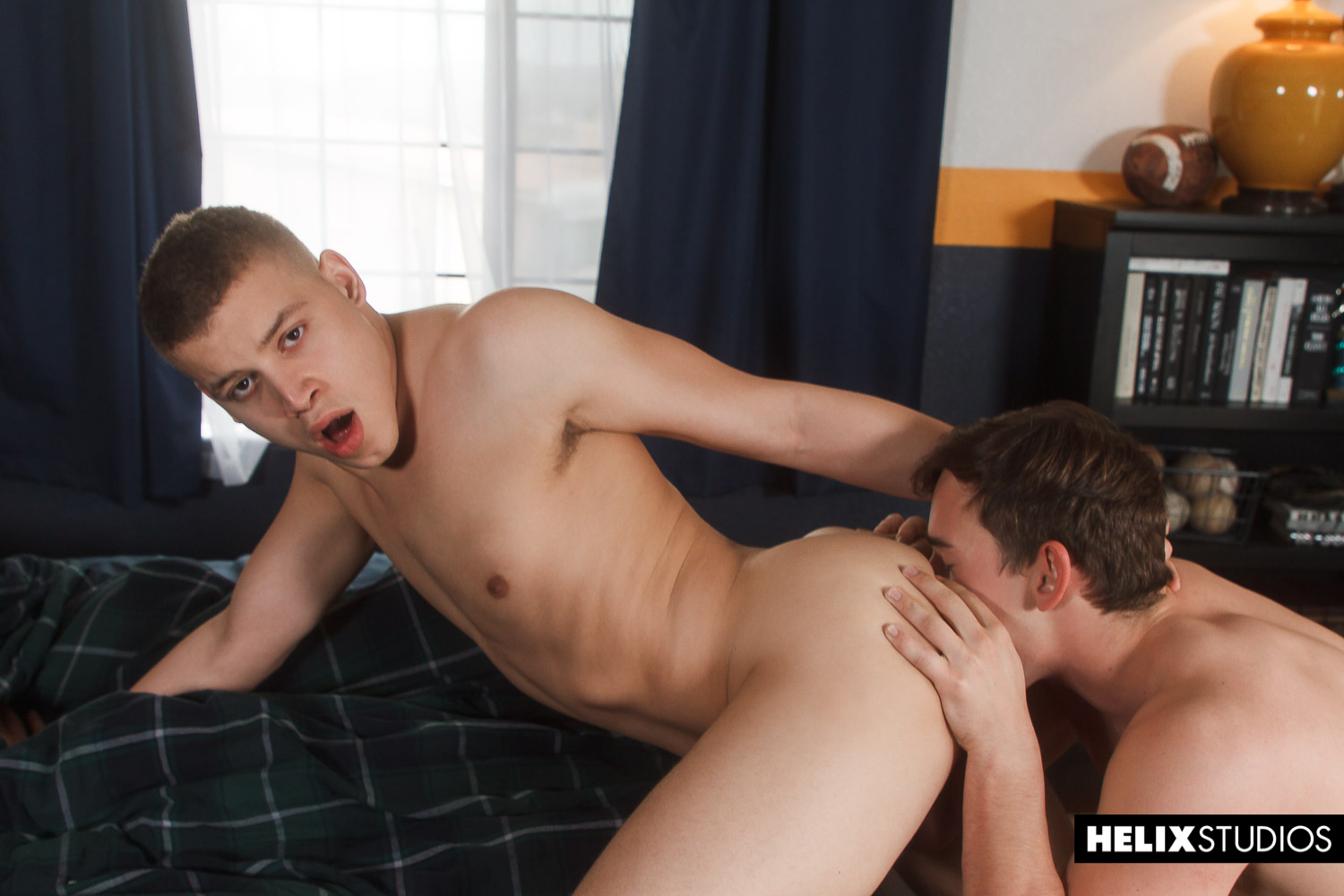 And here's another big-dicked top, Josh Brady, in switcheroo scene Brady Bottoms. Certainly looks like Josh has developed something of an appetite for Corbin's taut and tasty sphincter. Hmmm, minty fresh!
No ifs, butts or maybes – Corbin Colby sure has one outstanding ass!