Truth or Bare from Helix sister site – 8teenboy – is a hot twink threesome featuring cute young pups Tristan Adler, Adam Hunt and Julian Bell. The more observant among you may have noticed there are actually 4 twinks in the image above. That's because fresh-faced Kurt Niles doesn't participate with the other guys, instead choosing to watch his horny friends from a discreet distance. Here's what might have been going through his mind as the action unfolds.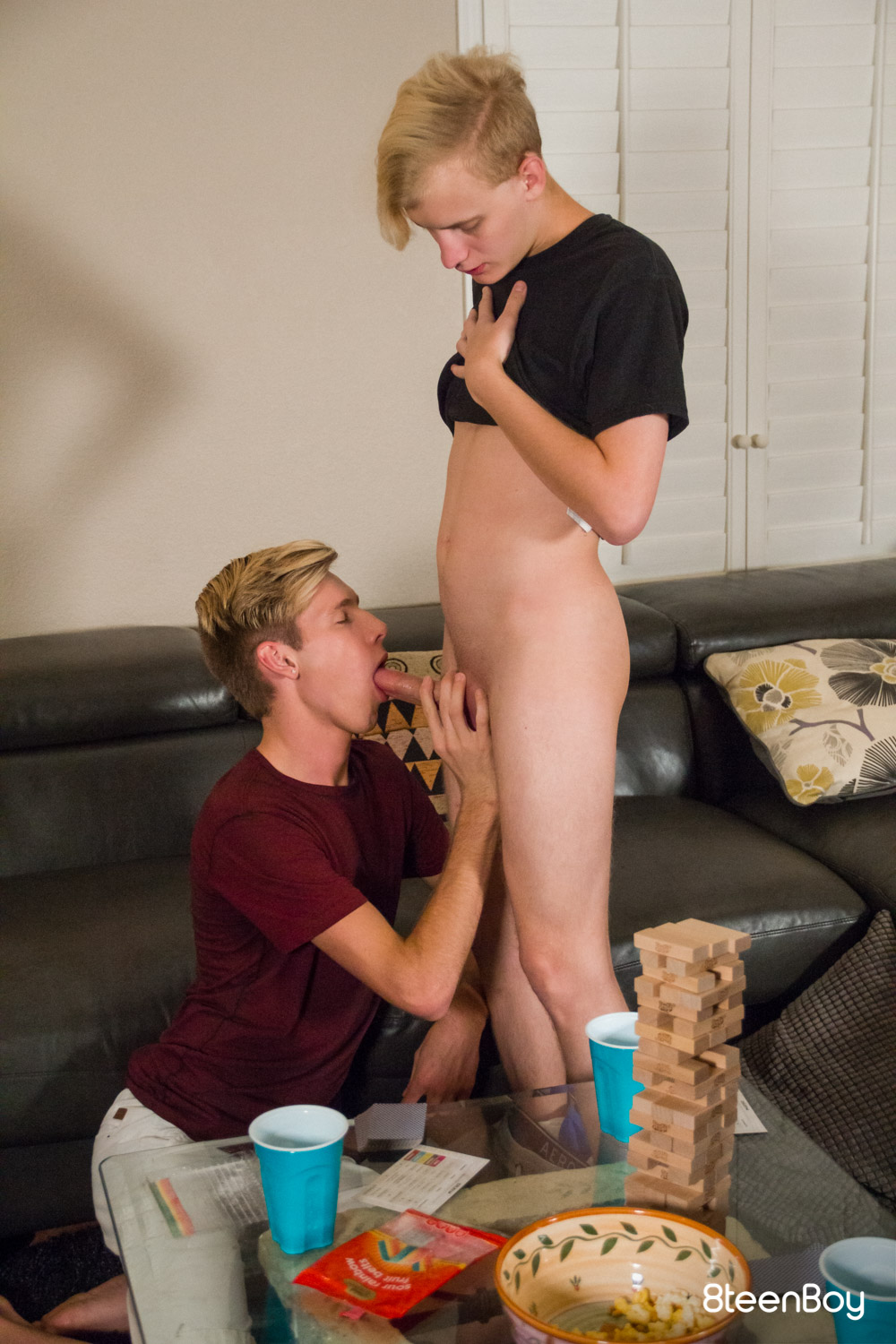 I knew this would happen. Every time the guys get together for a games night, someone – and it's almost always Adam – suggests a game of Truth or Dare. As Julian says, it's "just an excuse to do gay shit". Not that I have a problem with that, but now I'm in a proper grown-up relationship I'd rather let them get on with it without me. Still, always nice to see Julian with a dick in his mouth!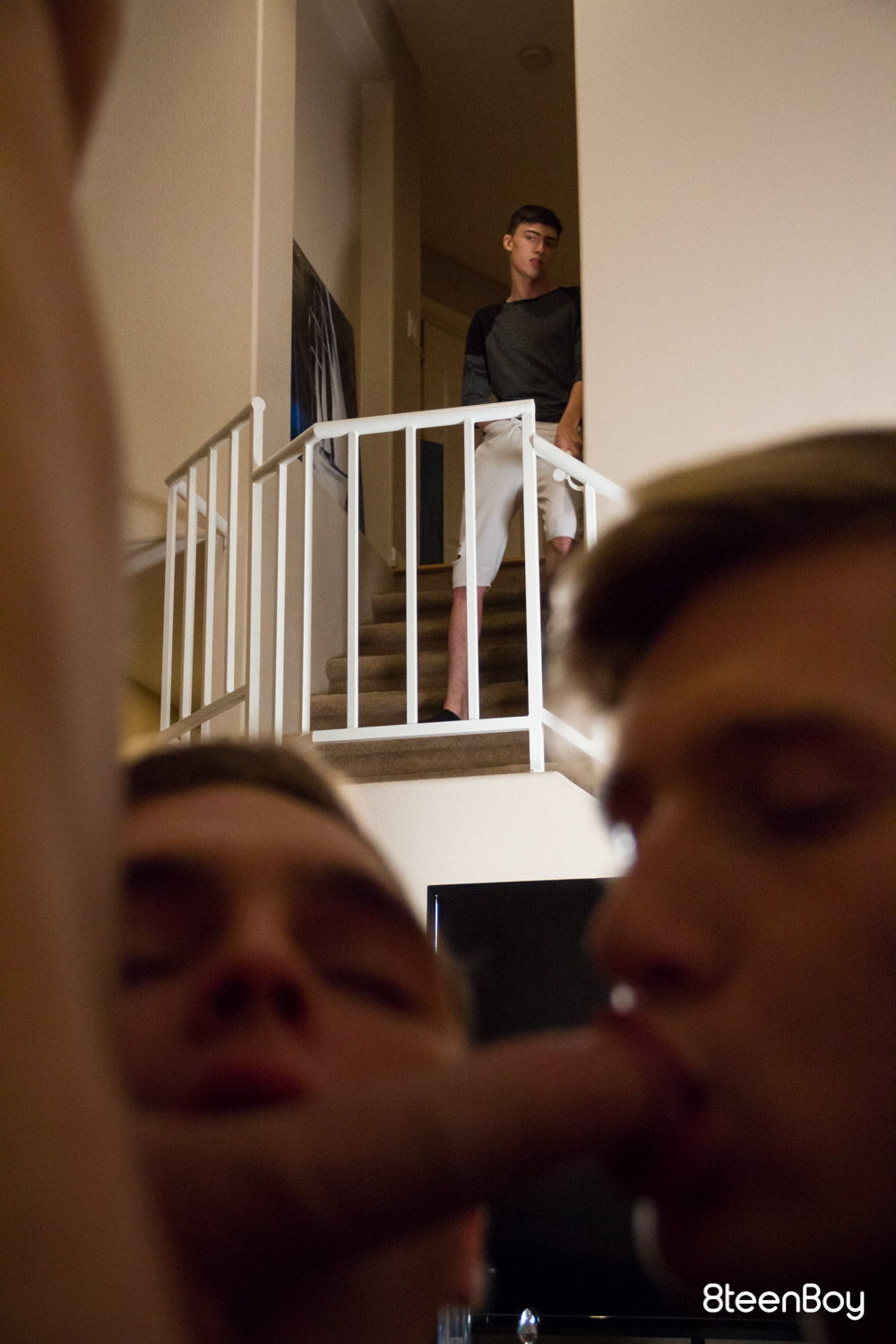 So I went upstairs to leave them to it, but couldn't resist a quick peek back to see where they'd got to. OMG! Both Julian and Tristan taking turns slurping on Adam's spicy salami. It's not like I've always had a bit of a secret crush on each of these guys, but it's definitely something of a turn on to have 3 hot dudes making out in your own house. Might just have to adjust things in my pants for a few minutes while they carry on…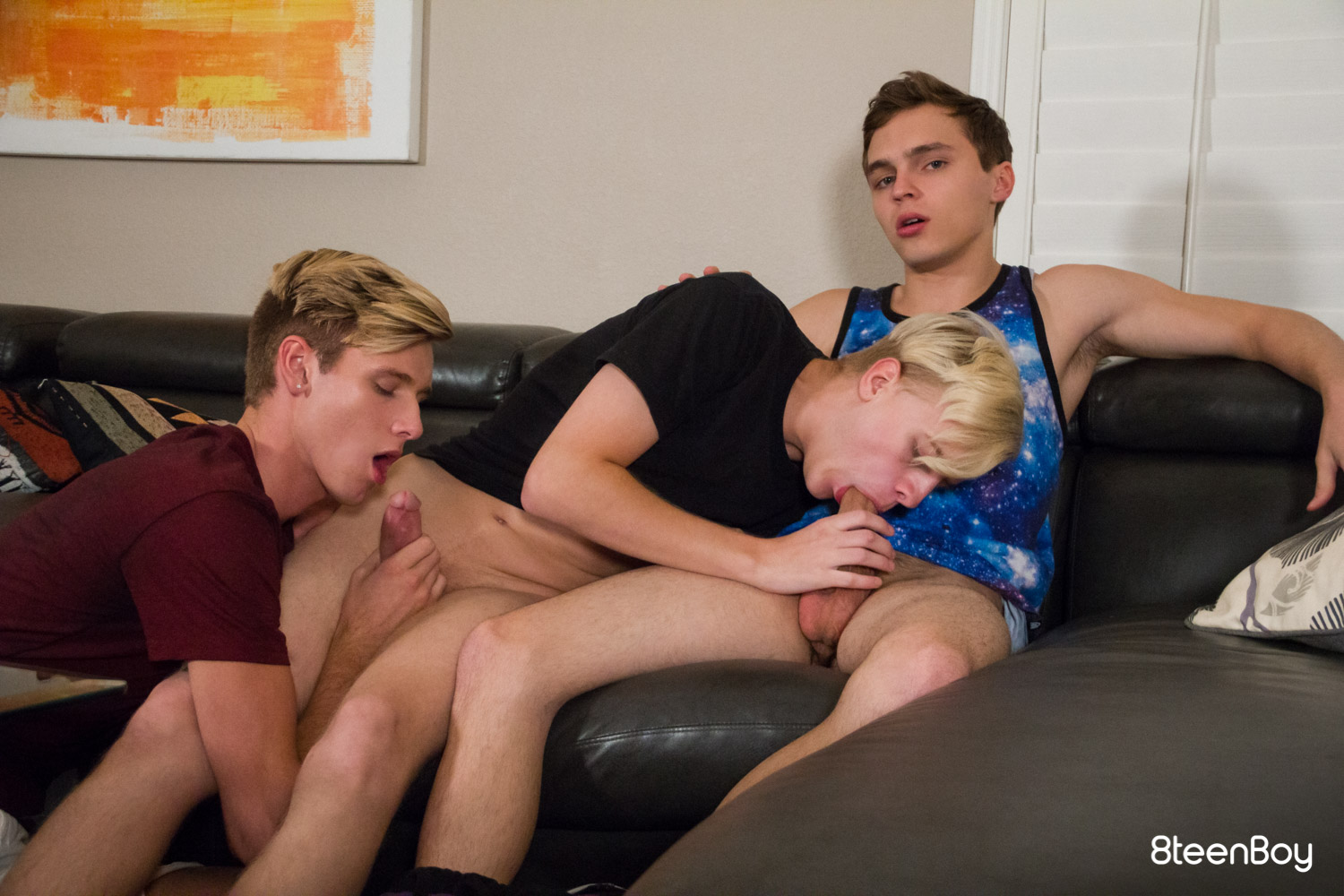 Things have really started to hot up now, with two twink mouthfuls of cock at the same time. I know both Julian and Adam are experts with their tongues – no surprise Tristan is sitting back for the time being to enjoy the show. Wonder if he's going to get more involved with some more energetic activities of his own?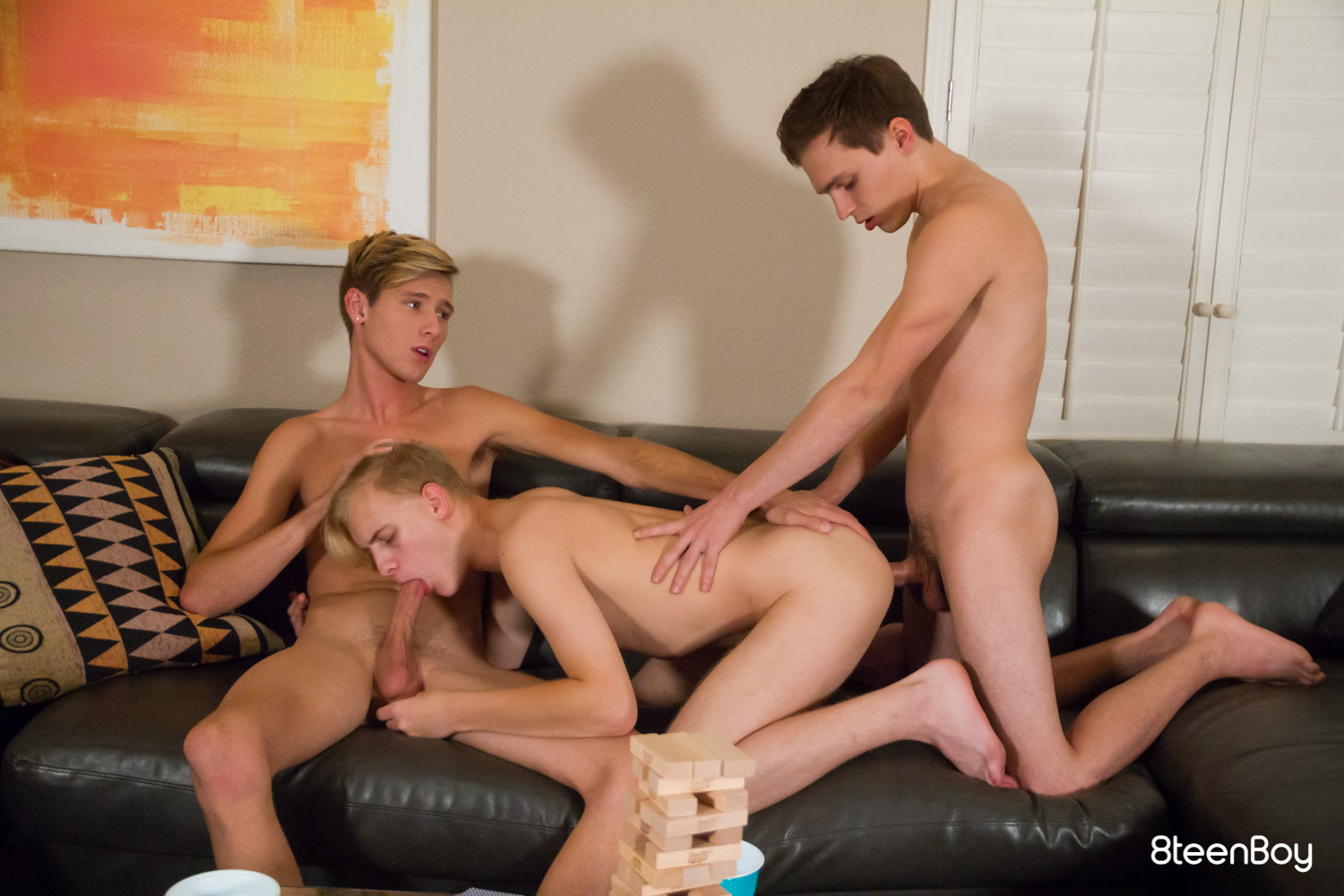 Well there's my answer! Adam's always been one for presenting his best side to his true friends when taking part in these sort of games, but this time he's allowed Tristan to sneak up behind him in order to press home his advantage! Julian looks like he's carefully scrutinizing Tristan's style of play in order to use it for his own ends later on.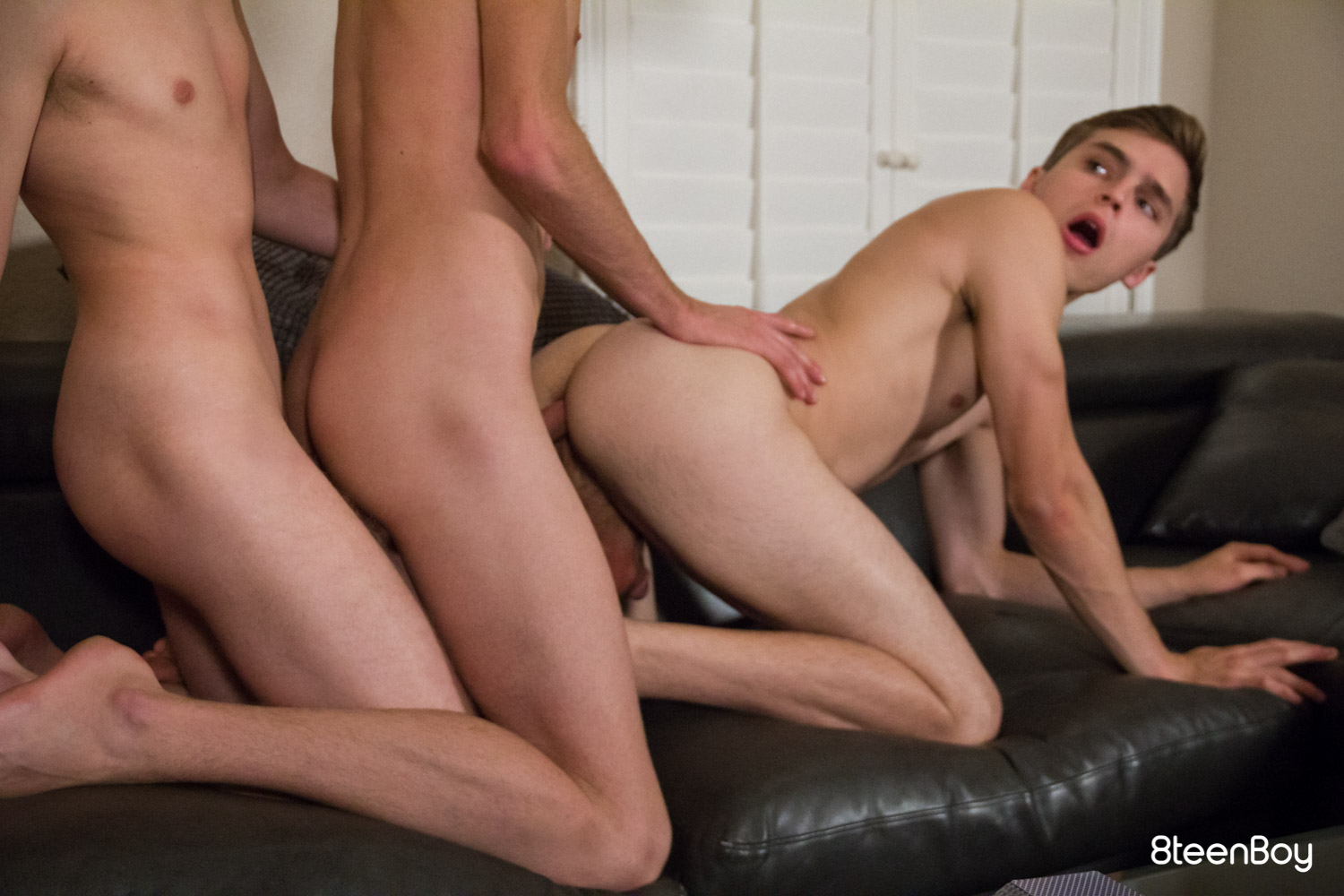 Yep – as soon as Tristan left an opening, Julian made his move, taking back control of the situation and leaving Tristan open-mouthed at the sheer audacity of his blond friend. Not that Adam was going to be content to let them get on with it without him, of course. As soon as Julian's back was turned, Adam jumped right on in there leading to a hot and sticky 3 way fuck train – the like of which I've certainly not encountered before.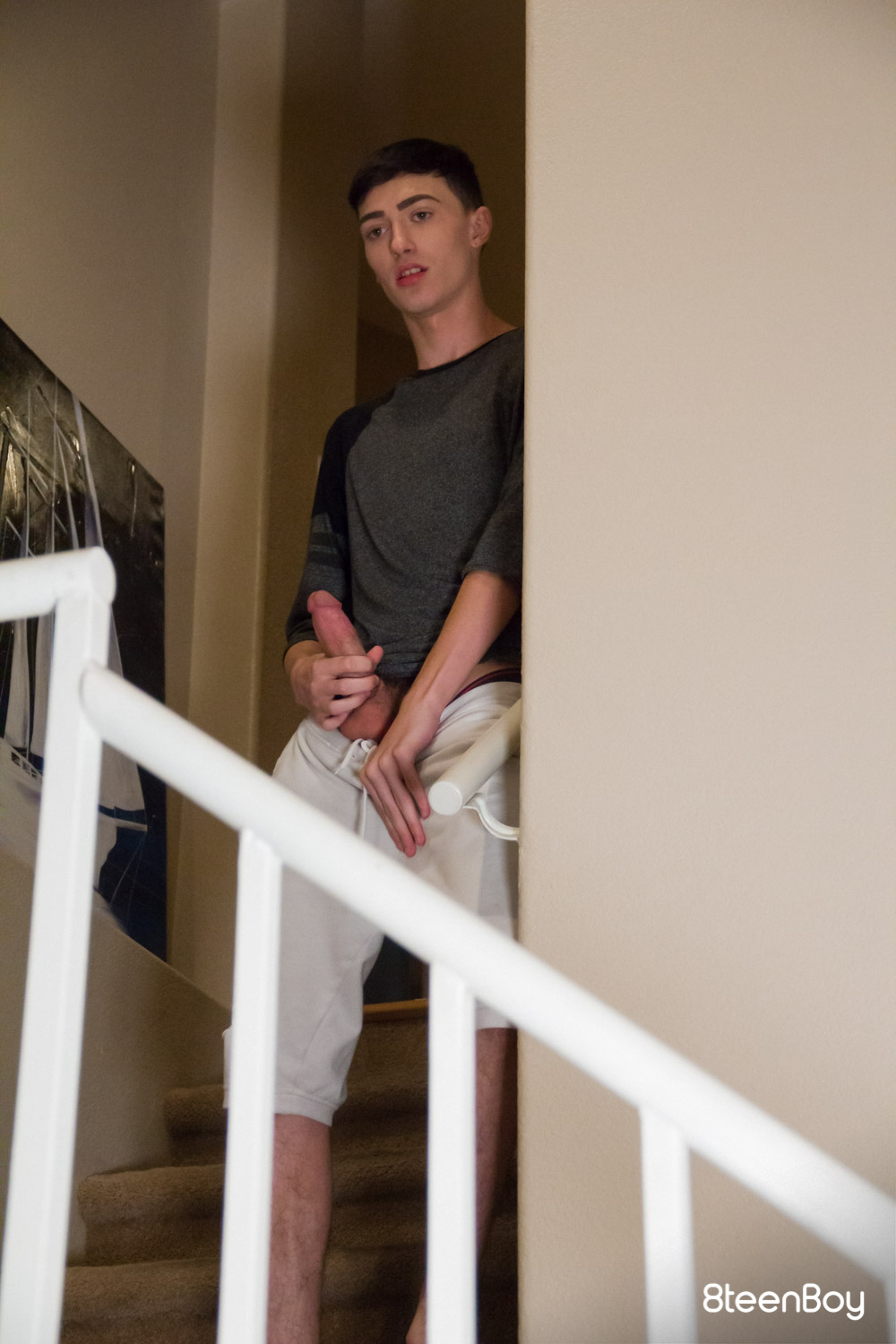 Hmm. Looks like my pants needed a little more adjusting than I originally thought. Oh well, I guess jerking off while watching isn't the same as properly joining in. Sure didn't expect to end up playing with myself on games night – but certainly pleased I did! Now then, I wonder if my boyfriend would be interested in looking into something similar by way of gameplay for ourselves…?