Helix producer Casey Roman, director Alex Roman, and 8teenboy director Max Carter discuss what it takes to make you cum.
I'm especially partial to the boy toys here at Helix that bear their soul and skin for the depths of our pleasure. But there is another team that gives it their all behind the scenes. They are the directors and producers that make the magic happen. While Helix's eye-candy shop of the hottest young men in porn fuck our senses into oblivion, it's the team behind the camera responsible for asking the question: What will get our fans off next?
For dynamic porn husbands Casey and Alex Roman, it's a way of life. "We both used to work for another porn studio, like a Raunchy porn studio. And we were the cameramen and editors for that studio for three years," explains Casey. "And then we were self-employed for a year after that. That's when we made our own self-financed porn movie, Gym Daze. Keith [Miller] saw our movie and he liked it. So, he took us to dinner one day and offered us a job."
Casey is responsible for all the Helix casting, logistics (making sure our beautiful boys get to set), and pairing the models together to make movie magic. When asked what he looks for in a model, besides the looks and personality, Casey explained that humility is key.
"They're usually very humble in that nobody comes out thinking that they're super-hot," he says. "Some never really believed they would get cast. [Even if a model is arrogant, insecure, or nervous] what happens is that the person will show up and meet a bunch of really nice people and then relax in to it. Because he realizes that he doesn't have to defend his insecurities by putting on a show."
Once a scene is cast, it's time to get down to business. All the non-sex stuff that helps build your boner of anticipation is called B-Roll. Casey and Alex write that together, or they draw from ideas on the models' personal lives. Some models like surfing or skateboarding or maybe they can do lots of pull-ups on a park jungle gym. Others play sports like soccer or basketball. Helix's Ben Masters is a ballet dancer! Digging into the performers' real-life hobbies makes for great porn.
"Usually, we don't rely on scripts to create a decent scene. Ideally, we'll take something relatable to the model or relatable to the day we're shooting, and that will help us out," Casey explained.
On the day of the shoot, filming a scene takes a lot of work, especially for Helix scene director Alex Roman. Often, the models have to wait around while Alex and his crew meticulously adjust the lighting. He and Casey work together figure out the best angles for the shots.
Two cameras capture all the hot and steamy action. Alex runs the wide camera while calling the shots. Casey gets those all-important close-up shots. As the director, Alex tells the models what to put into which hole and when. It's gentle guidance from a director sensitive to their every need.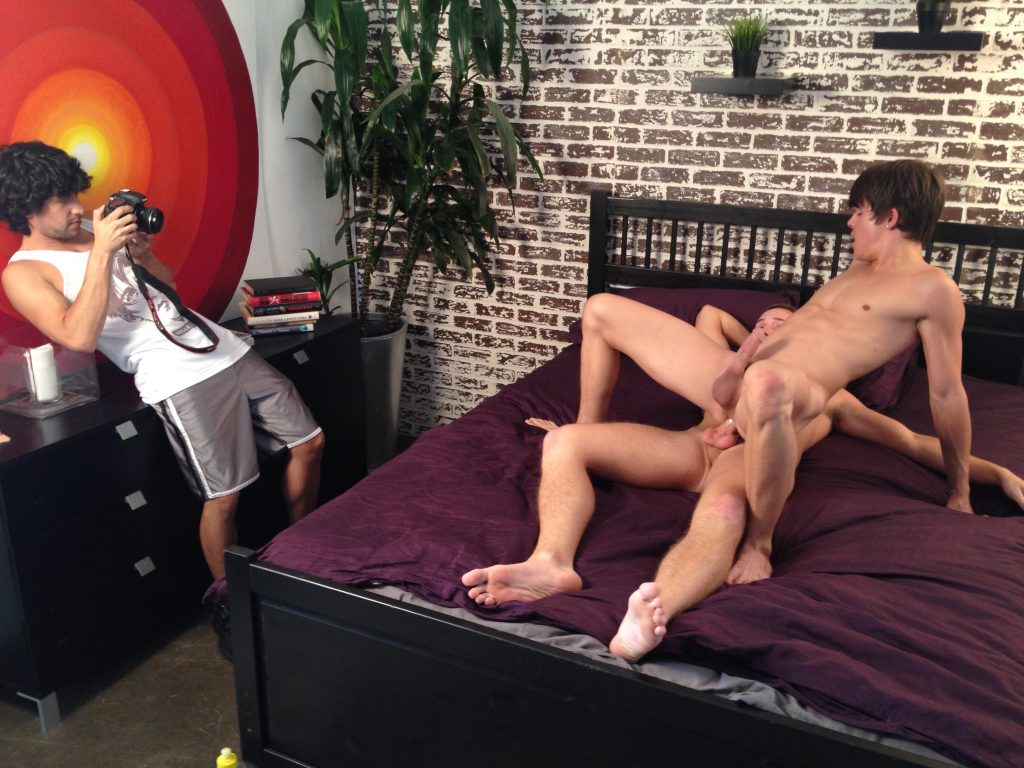 "The models like to be told what to do in terms of what positions and all that," Alex explains. "But the key to directing the sex is trying not to direct it. The more we talk, the less natural it becomes. Because once you start telling them too many things, the models start to think that they're doing things wrong and they start getting down on themselves." But our gorgeous guys could never do wrong, and the more scenes they get under their belts, the more eager, vocal, and experimental they become.
When models, especially younger models, come to Helix, they are often nervous about their first time in front of the camera. Our very own model-turned-8teenboy director, Max Carter, explains that his role is equal parts director and mentor. "A lot of the 8teenBoy models are virgins or only had maybe one or two sexual experiences so they might not really know what they like or what they want. We have to take baby steps. I wont ask a model to do anything crazy. Some are very sexual in nature and don't need much coaching, others I'll recommend positions and coach them through it. After a couple of scenes, they start to develop a sense of what they like." Max says it's cool to be a part of that process because the models develop into confident young people.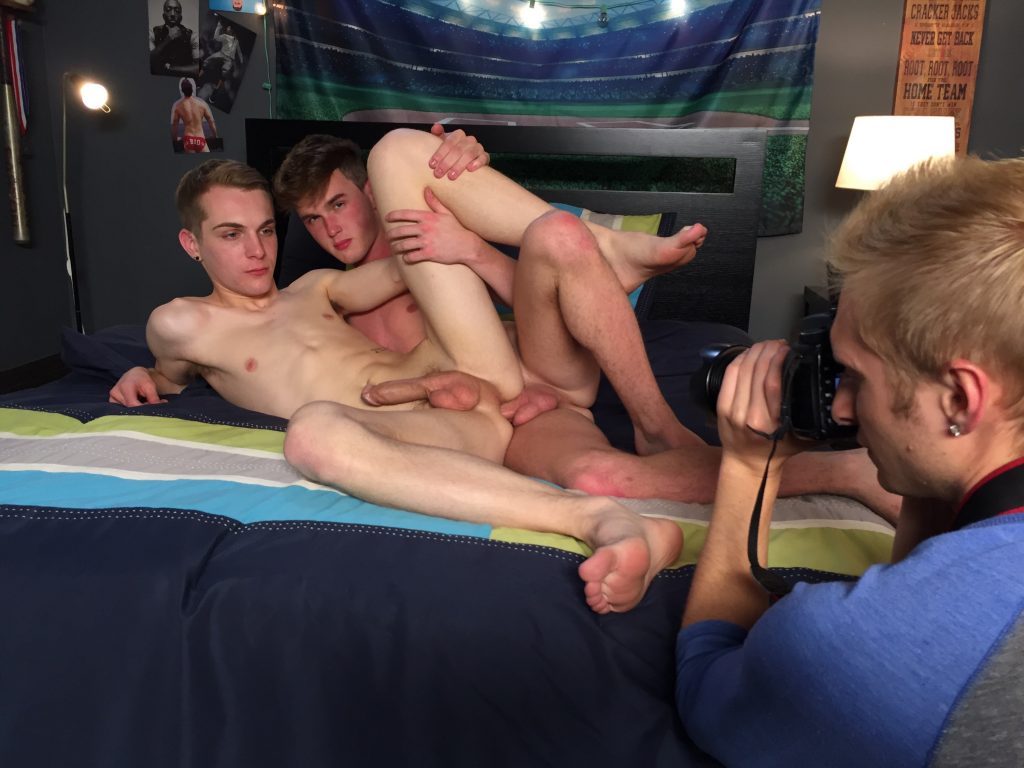 Making porn that divulges all your boyhood fantasies is about making sure everyone has a fun time on set. Casey and Max pluck hot guys from obscurity and turn them into perfectly fuckable fantasies. Alex uses his eagle eye for porn to make sure you can pound one out to a well-lit penetration that transports you to a satisfying release.
That is because, at its core, porn is still filmmaking. And the people that make your fantasies come alive are as dedicated as those making any other kind of movie. As Casey put it, "One of the best things about making porn is that stuff that's overused in Hollywood doesn't get used it all in porn, so we can always just go for it."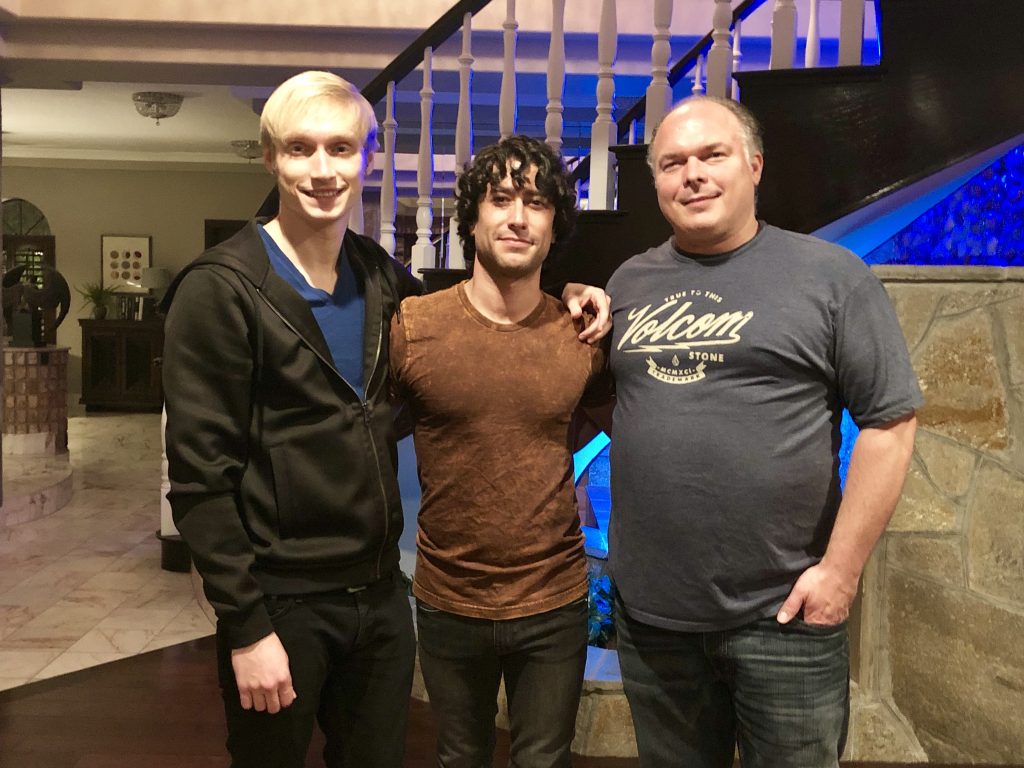 Follow @MaxCarterXXX
Follow @SexyAlex90
Follow @CaseyHelix