"They made me feel safe": Collin Adams on joining Helix Studios, his work ethic, and growing up a southern boy
Viewers may only see the muscular metro-sexual southern gentleman, but there's a different side to Collin Adams. Our Tennessee bread bottom is quite the roughneck. He's been working so hard since the age of 16, Adams now owns his own home. He's only 18.
"I believe you work for what you have in this life," Adams says of his independence. "I have definitely earned what I have in this life. My parents didn't help me."
So what then, leads a hard-working hottie into the depths of fantastical filmic desire? That's an easy one: A break up. When Collin broke up with his longtime boyfriend, he decided to take the plunge and do something he only dreamed of (and jacked off about) doing: getting fucked on camera.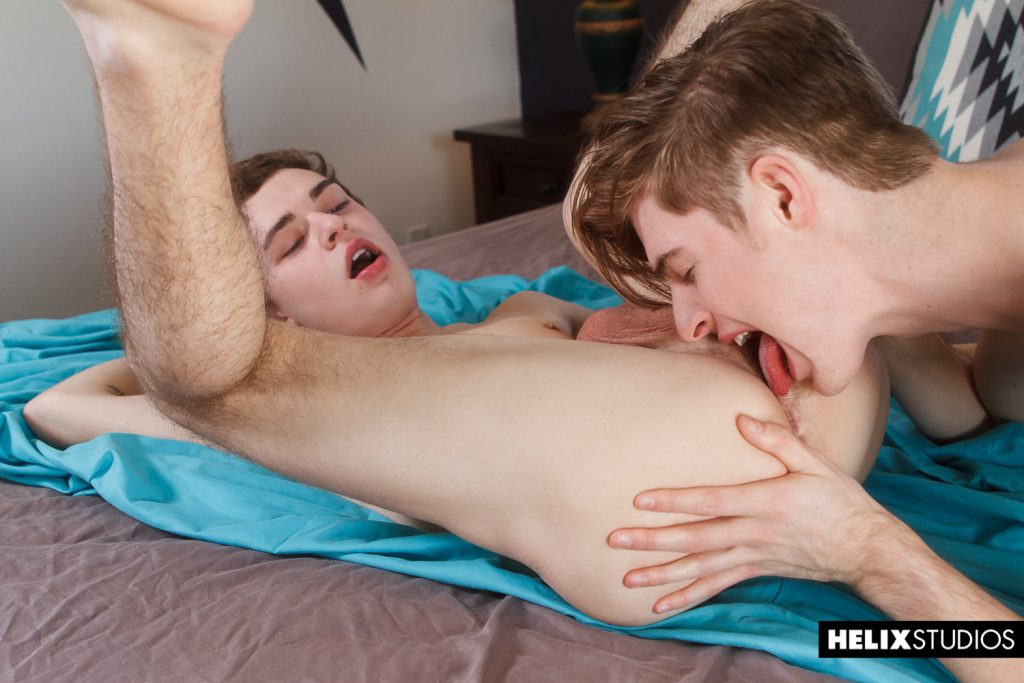 Now, this Memphis native finds himself flying back and forth to Sin City. Collin's first scene sees perfectly locked-and-cocked Travis Berkley treat his ass like Southern Comfort food.  A solo scene is also online, featuring every ab line Adams has amassed through old-fashioned labor.
During his first visit to the Helix Mansion in Las Vegas, Collin filmed a few scenes. Berkley, he said, made shooting his first filmed fuck a breeze. "Throughout the whole thing, Travis was asking, 'What do you like? Is there anything you want me to do? If anything happens it's ok. Just go on about it. Make it look like it didn't happen.'"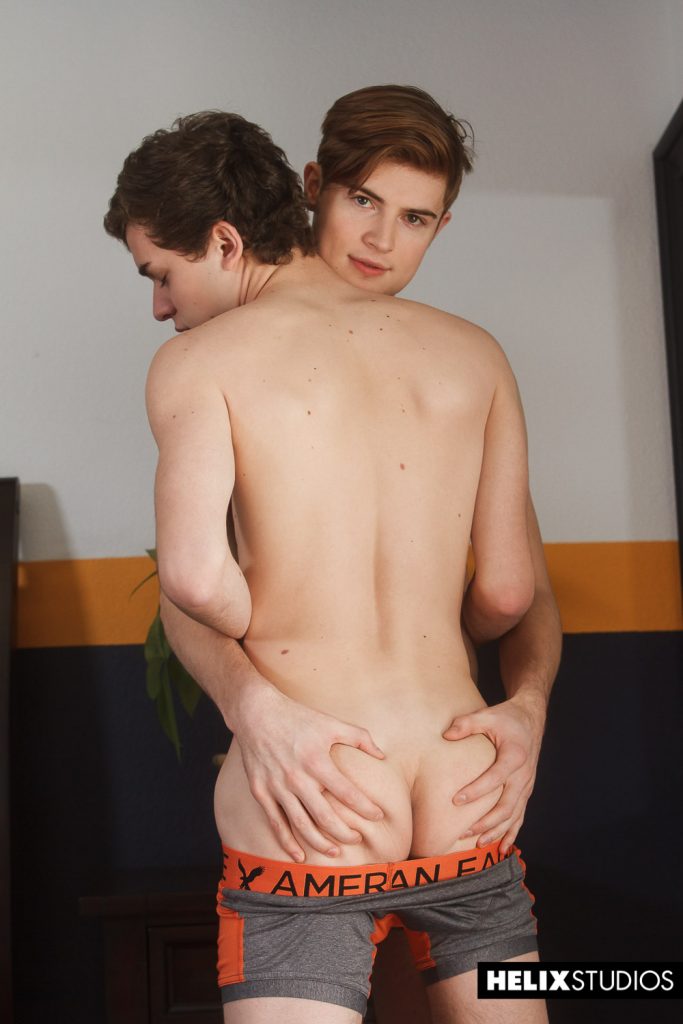 The Helix team, too, treated Collin like royalty. "Everyone was great. All of us got along really well right off the bat. They made me feel safe."
And if you loved Collin's solo and scene with Travis, don't worry: there's more coming. How do I know? Because he had a funny story to share. While it's a Shane shame I can't reveal the name of his top, this story is too good to withhold: "[This undisclosed hulk of a man] and I were filming on the bed. In the middle of transitioning from cowboy to missionary, as I was getting off him, we heard a really big 'BANG.' And I'm pretty sure the bed broke."
Behind Collin's perfect exterior lies an even more perfect heart. Growing up in the Bible Belt, he was lucky to have accepting friends and family, and paid that kindness forward. "I went to high school with a guy. He was gay, too. Other kids gave him a hard time about it, but they didn't give me a hard time about it." Collin says he felt he had to do something.
"They gave him trouble because he was kind of socially awkward. He was an easy target. I just confronted these idiots and said, 'If you're gonna make fun of anybody, make fun of me. You're not gonna sit here and make fun of him for being gay when you're not making fun of me. That's not okay.'" Oh, how beautiful it would be if those two ended up together? Right? One can dream.
But if you are looking to get with one of Helix's best bachelors, know that the key to Collin's kind and generous heart (and unforgiving ass) is through your character. "Personality is my biggest thing." He reasons, "If a guy a has a shitty personality towards other people, then obviously in your relationship you're gonna have problems because that's how he's gonna end up treating you." Wise words indeed. Southern wisdom.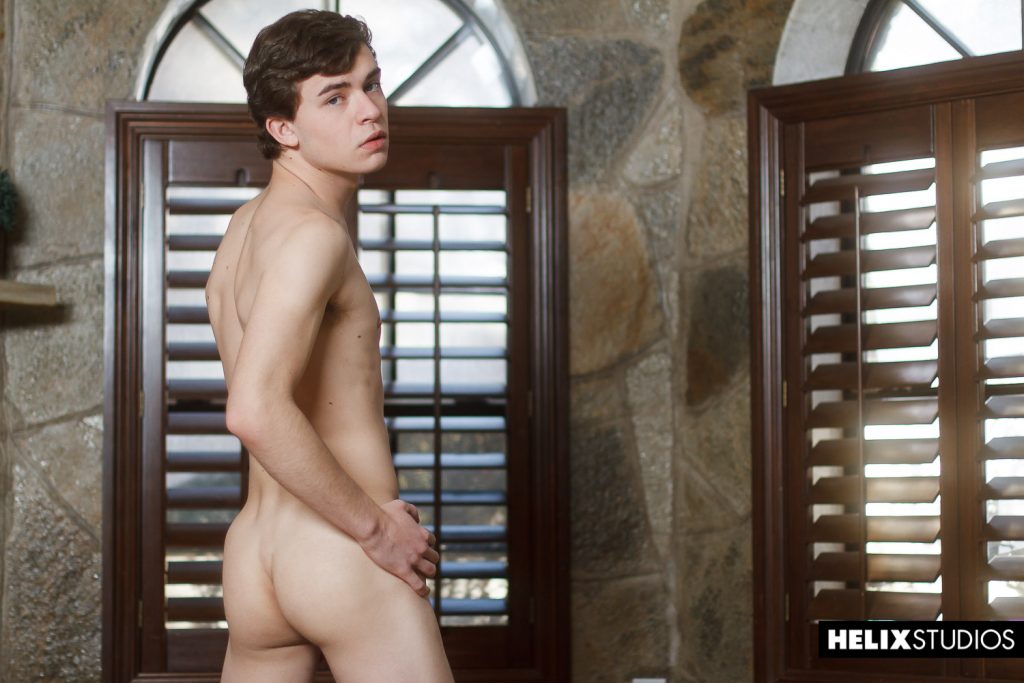 Because I am looking out for you, dear reader, and I love getting in your head, I ended this model interview by asking our freshest meat my two favorite fuck-related questions: 1) Who would our luscious verse bottom like to top; and 2) what is his biggest kink?
The answer to number one should not surprise anyone: Collin says he would love to manhandle Preston Hale and Leo Frost. Both tight, tiny twinks with amazing rear engine power.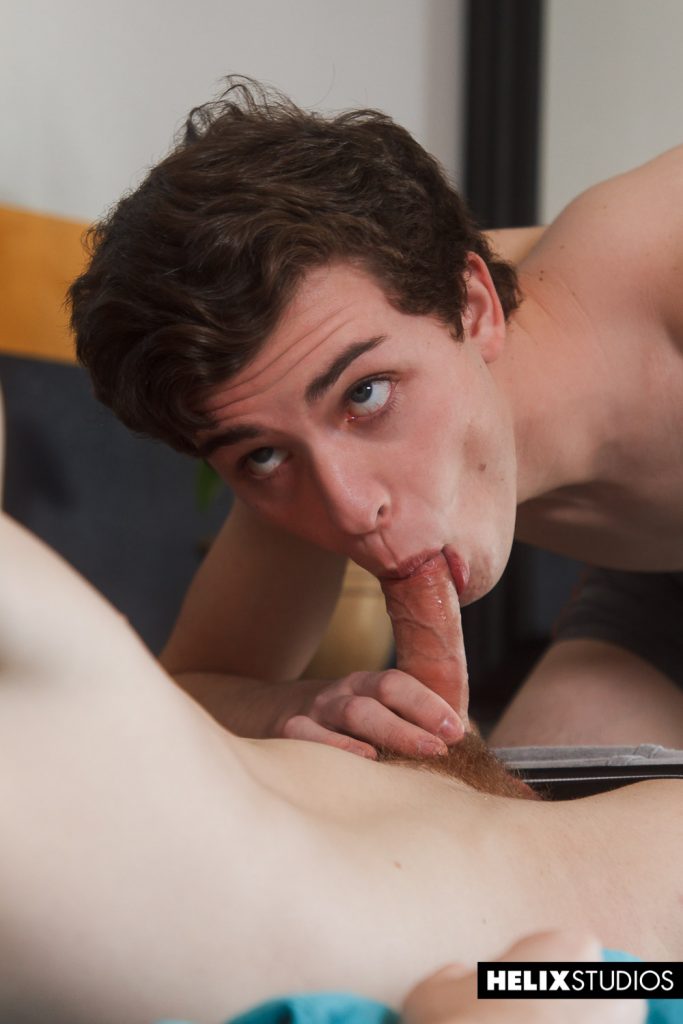 The answers to my now-patented Kink question always surprise me. Collin loves it when a guy, is, "Touching, biting, or blowing on," his ear. But there's a sweet personal reason for it. His ears became sensitive over many surgeries to correct some hearing issues. If you listen closely, you can hear the faintest lisp. Somehow, that just adds to his innocence and makes this purely southern boy even sexier. Don't you think?