Davey Wavey uses Helix superstars and divine inspiration for new erotic content
Imagine learning how to indulge your every fantasy by a Greek God himself. Sound tantalizing? Gay YouTube icon Davey Wavey may not be a god (though with those biceps, he comes close) but he takes his inspiration from Himeros, the God of Sexual Desire.
Wavey started Himeros.TV to offer a different take on erotic content. He explains, "The intention isn't so much to get you off as it is to get you in touch with your body, desires, and connection [with your partner.] So yeah, it's hot and it's juicy. But it's really a different flavor."
Be that as it may, Wavey still called upon some orgasmically familiar faces to kick off his new venture: Beautiful boys Blake Mitchell and Joey Mills. Davey approached Helix founder Keith Miller to use some of his models for his new project. Miller said he was excited by the project because of his own interest in the wide-open world of sex. "I'm interested in different producers' points of view on sex, intimacy, relationships and all the rest of it. It's all part of the puzzle that makes up the wonderful world we live in. Seeing this person's perspective and seeing how our models interact on there is a wonderful thing."
While porn gets you hard and indulges in the deepest, sexiest parts of your imagination, Himeros strives to show you how to take action on your wildest wet dreams. Getting patently candid, Wavey explained that, while porn is amazing, emulating it led to some embarrassment during one of his first relationships.
"My college boyfriend and I had just had sex. I was like covered in his jizz. And he said to me, 'Having sex with you is like being in a porn.' And of course, he didn't mean it as a compliment," Wavey explained with a laugh. "But in my mind, because that was what I had been using to educate myself, I was like 'Great! Mission accomplished!'"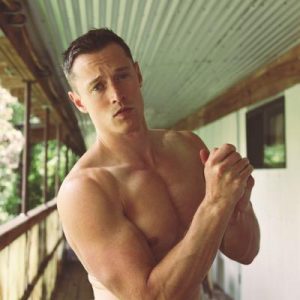 As far as Helix's involvement in this new "mission," Davey and Helix have a long history thanks to the vlogger having interviewed many hotties on his YouTube channel. Keith explains that when Davey approached him about Himeros, Blake and Joey became excited about the possibility of exploring another side of the boner-breeding passion Helix fans are so used to experiencing.
"Having come off of Flower and working with Matt Lambert-you know, those kinds of unique projects back when we did this were something we were doing at the time," he says of his philosophy on exploring new facets to intimacy. "Matt Lambert's Flower project was also a whole different take on sex, and now with the Himeros stuff. It's an entire new take and everyone was very excited to be part of those projects."
If you want to enhance your ecstasy and explore how real people and porn's biggest stars have mind-blowing sex, all of Himeros' Helix scenes will eventually be live on our main site. Stay tuned for more lessons from the God of Desire.