Angel, Cameron, and Kevin indulge every roommate fantasy. Ever.
I once lived with three other dudes in an open-bed situation in college. Basically, it was four dorm beds and desks set up in the four corners of a massive apartment-like dorm room. Did I fantasize about walking in on at least one of my roommates choking their chicken, making eye contact, and joining them for a slurp fest? Fuck yes. Fuck. Yes.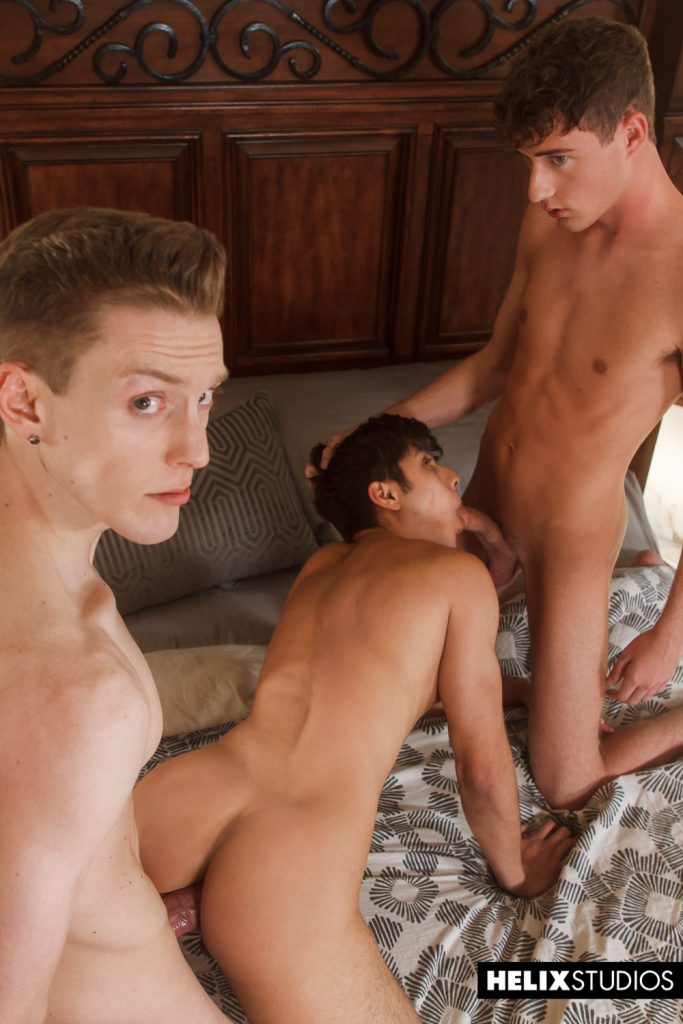 And it seems big-balled Cameron Parks has hit the mother load when he encounters housemate Angel Rivera slurping away on returning jock Kevin Daley's monster schlong. In fact, Daley's dick is so fat, we can see tears welling up in Angel's eyes. They're either tears, or slobber from Angel slapping himself with the mega-meat stick. Or both. Good God, I hope it's both.
Daley waves Cameron over, and Angel is caught completely off guard. To be honest, my dick jumped at the look on Rivera's face when Cameron knelt beside him. Somewhere in the recesses of his mind, Rivera had been fantasizing about Parks, too. Rivera relents, and the three-way fuck commences.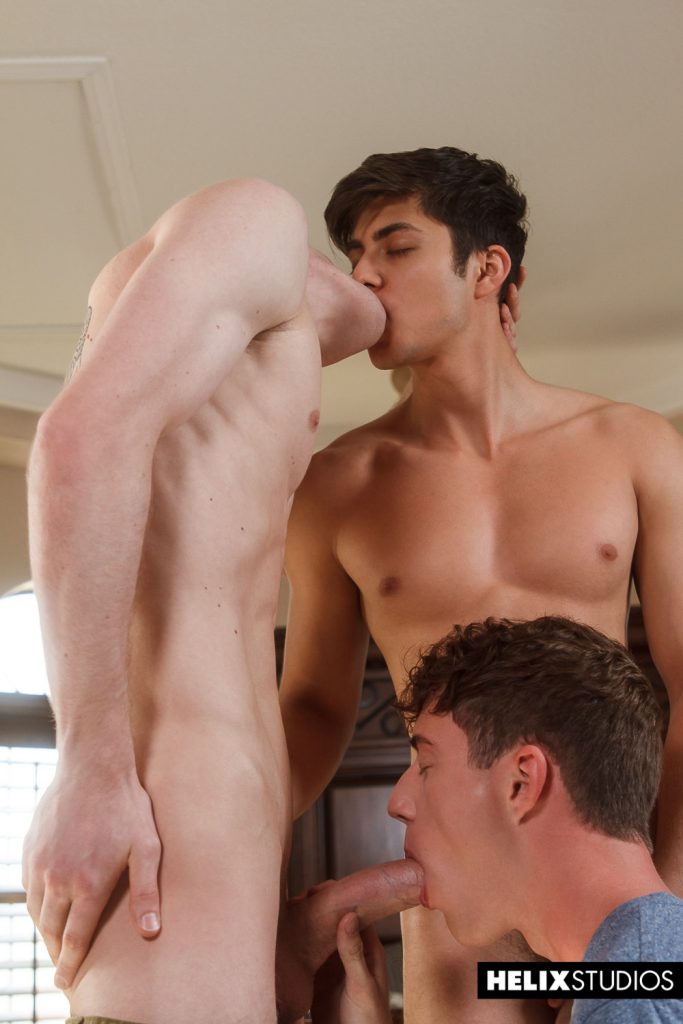 My personal favorite part of this triple-dip of Helix hotness is towards the end. As Cameron is getting his ass drilled by Daley, Angel plays with Cam's big balls. He grips them so tight, it startles our big balled boy. Cameron's moaning increases to a decibel the microphone almost can't handle. Meanwhile, Angel and Kevin are reveling in their own aggression in that moment, taking pleasure in controlling Cameron. Nothing-and I mean nothing-gets me going more than manhandling a plump package like that. Unbelievably sexy.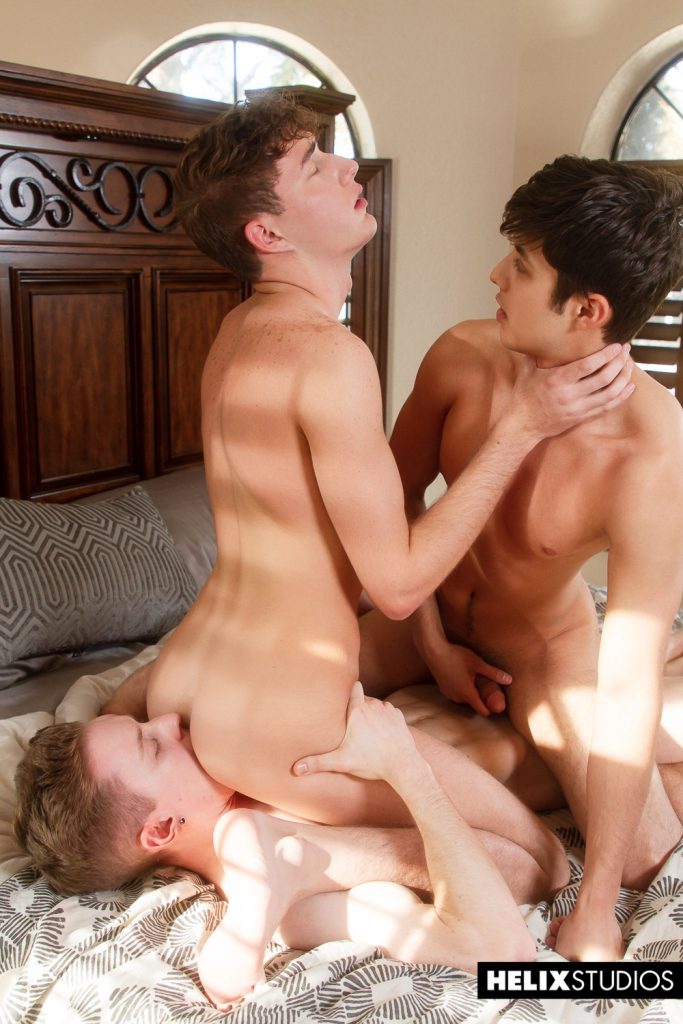 For every boy that tries to hide his stares at his roommate in their underwear when they step out the shower; or that listens at the door for the faint muttering of orgasm to make sure it's safe to return home, and even for wishing you could watch him finish, it is always hot to fantasize about what we can't have.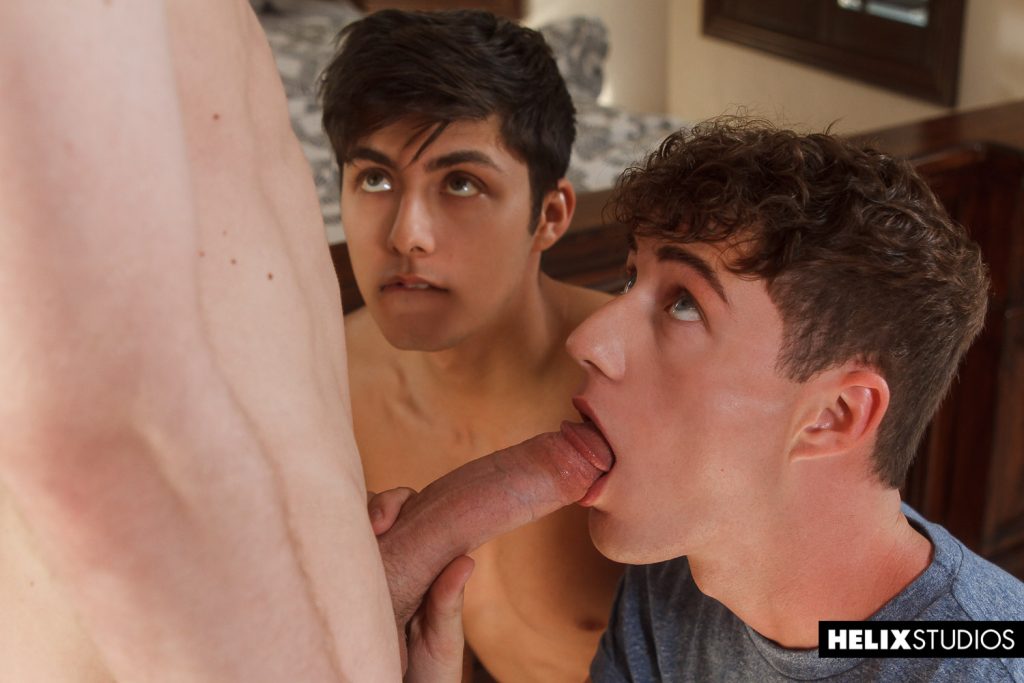 What would it be like to cross that line? How would it affect our relationship? Would he be weirded out? Or would we fuck all the time? For every Reddit "true life" *cough cough* story of this actually happening, we wonder what it would be like for us. We may never dare to take that risk, but it will always be fun to fantasize about it. Perhaps, sometimes it may be more fun to leave these kinds of fantasies to the imagination. Watch these boys act out your roommate fantasies.