The heat is on in Las Vegas, and I'm not only referencing the insane 115 degree temperatures on the thermometer. At Helix, we pride ourselves on discovering the most beautiful and talented models, and the two guys we've added to our exclusive roster are no exception.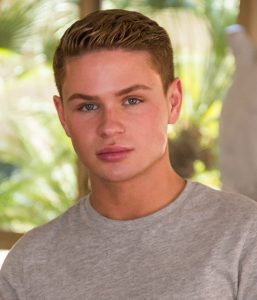 After a year performing on our little brother site, 8teenBoy alum Jared Scott (above) is letting it all hang out with the big boys of Helix. Jared's promotion is a reflection of his work ethic and commitment to the brand. The move will mean that Scott could share the screen with his former 8teenBoy director Max Carter and Carter's assistant Joey Mills.
Joining Jared beside the bevy of Helix beauties is newcomer Dylan Hayes. The LA native has years of acting experience on his resume and is ready to go head-to-toes-to-head and back again with the likes of Blake Mitchell and Cameron Parks.
Summer is sizzling on HelixStudios.com. Join now, and make sure you're not left out in the cold.