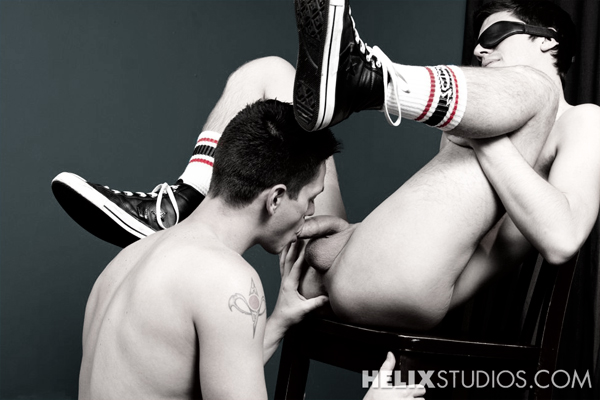 His lips met mine again as we kissed deep. I could taste my boy cock in his mouth.
After lapping up and down on my knob a bit more he unleashed my legs so I could spread them open for his tongue to make his way to my hole.
"You like that?" he asked.
I moaned out the best I could, "Oh yeeea-ah!"
His tongue felt so warm and wet in my ear. Again he asked "Do you like this? What do you like huh?"
I could barley make my voice be heard, "Oh suck me."
He went down on my smooth balls taking each one in his mouth. At first the it made them hurt because they were so tight and full of cum, but the pain soon turned into pleasure.
I could smell the sweet musk of my cock on his breathe as he turned my head and spoke softly "Are you ready – for what's coming next?"
My restrained feet wiggled back and forth as he went back to my tight sack. I couldn't help but try and lift them, begging for my tight hole to be prepped and licked. Luckily he released me from and lifted my legs for a new pleasure that had me moaning even louder now.
He finally took my blindfold off and let me see his hot body. I wanted him to finish eating out my hole properly so I turned around in the chair and stuck out my round rump for an even deeper licking.
Slowly he turned me back around and unzipped his tight ass hugging jeans as he sat back on the chair so I could give him the sweetest blow job he'd ever received. "OH FUCK!" he screamed. I couldn't help myself, I just kept going – sucking on his balls, moving my way to the tip of his cock's head. "You like that?" he asked. "Oh yeah" I moaned. "You're gonna love it when I stick it in your ass!"
I couldn't wait any longer, I begged him to fuck me. My ass wanted his thick fratboy cock inside me, pounding harder with each pulse. I turned back around in the chair and stuck my ass out willingly waiting for him to probe me with everything he had. It was so big and my ass was so tight and ready to be penetrated with that slippery wet smooth frat cock.
We eventually moved to the floor where I could feel his tight balls. As my bubble butt bounced up and down on his frat dong I could feel the precum starting to pulse into his shaft. This got me so worked up I needed to change positions or else I was going to shoot all over the rug. I got on my back so he could stick it in me and we could kiss.
This was it, I couldn't take it anymore. He pulled out and I jerked myself to a sweet and fulfilling completion. The smell of my cum on my chest got him even more turned on to the point where he had to release. He moaned and with a final push came all over me allowing our boy juice to mix into a salty pool of ecstasy. This fantasy was one to remember.