If you haven't discovered the world of gay sports leagues you are missing out. Not only are these groups typically fun, but there are generally lots of opportunities to meet guys, really cute ones. No matter what sport you may prefer there is probably a gay sports team or association somewhere local if you live in an somewhat major city. In Atlanta there are lots of options from Gay Rugby to Kickball and everything in between.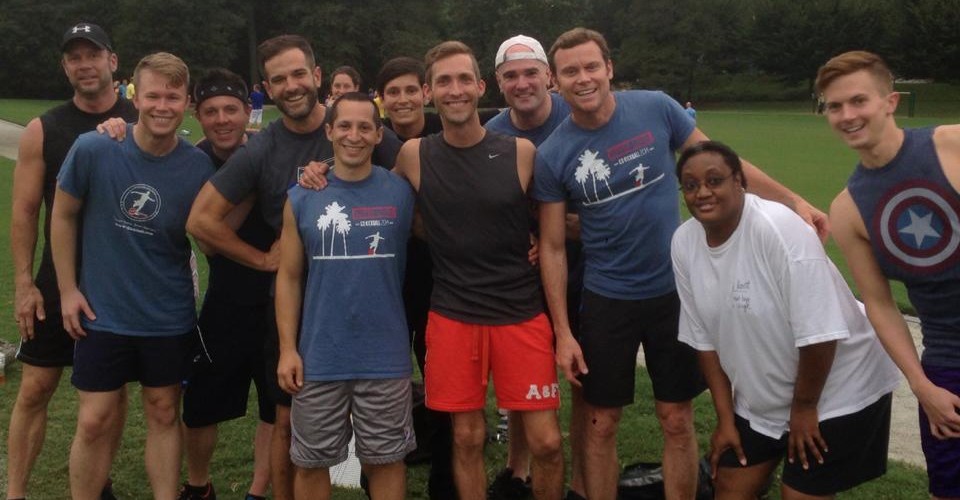 Years ago I was on a gay softball team and it was 0ne of the most fun experiences I have ever had. We traveled together and really became great friends.  I still keep in touch with many people that I met during that time. I got "busy" with life and stopped playing but recently I started playing kickball and have really enjoyed being part of a sport league again. Kickball is actually ever better because it isn't as competitive and everyone is just having a great time.
This is my second season playing for the Pride Kickball League which is part of Go Kickball Atlanta, last season being the first of the league. I had a great time and bonded with my team, most of whom returned for this season. We play on Mondays in Piedmont Park and it has become one of the highlights of my week. Each Monday after the game the league meets at Blake's On The Park where the organizers have drink specials and raffles. Always packed, always friendly and always fun. Monday has become THE night to go out. Actually, I only go out on Mondays now. LOL.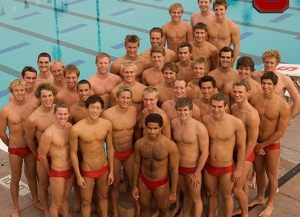 So, back to the title of this post, Why Gay Sports Are Better Than Gay Bars For Meeting Guys. I think it comes down to three things Attitude, Connection, and Soberness.
Think about the attitude of the typical guy at a bar. They are there trying to pick someone up, trying to look their hottest and be their coolest, trying to impress, etc.  Yes, I am overgeneralizing, but you get the point and you know the type. Well, in the gay sports leagues I haven't experienced any of that attitude and have been able to actually get to know the guys I play with and not just their bar persona. It is actually really refreshing.
Without the attitude but with a seasonal commitment you get to really know and connect with the guys on your team and with those on others. My experience with sports leagues has been that they are very friendly and inclusive whereas at bars I often feel excluded. Perhaps that is just me though. I will say that even after a short period of time playing with my team I love them all. Yes I knew many of them before and yes we are all a little crazy but I really look forward to seeing all of them each week and that is a great thing to look forward to.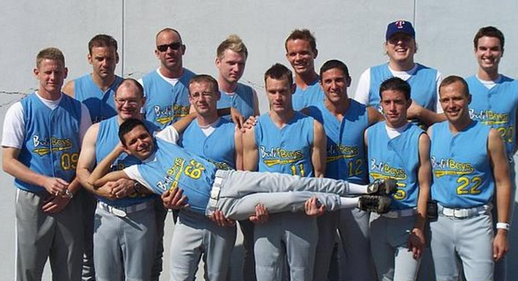 That the guys I met playing on sports leagues are typically sober(ish) during all the games really makes a big difference, I can actually talk to them.  At a bar there is always that point where a conversation can get really sloppy and that really never ends well.  At least on the field you can have conversations that everyone remembers. The great thing about most sports leagues is that they are generally sponsored by a bar or restaurant so you really get the best of both worlds, you can meet them when they are sober and then go have a drink with them after the game. It works out for everyone.
If you have never played for a gay sports league I suggest looking into it as a great way to meet great new people, socialize, and stay active. No matter what sport you play or your skill level the leagues I have played in have a spot for everyone. It really is like a little family. I mean if nothing else at least you have the sport in common with the people you meet, that is much more in common than I have with those I typically meet at a bar.  Just saying.
And no, I am not against bars, I actually love to go to bars to dance and people watch, I just don't really go there to meet boys. I have had a better experience making real connections through sports and also through volunteering (Which I will save for another post). To each his own, I guess, but I do think I have made some valid points?
Go Team Spotted Dog!
JWB
Original article posted on Outbuzz
Additional Reading:
10 Reasons We Love the World Cup