Heart throb Evan Parker is the quintessential All-American stud. From being crowned Senior Prom King to captaining the soccer team Evan is the kind of blue-eyed boy they write ballads about. It's no wonder he was tapped to star in the very first installment of Helix Academy with his boy-next-door good looks being as Midwestern as his Ohio accent. I was lucky enough to sit down with the young man who's kindness and humble demeanor were quite disarming for someone so strikingly handsome. During his Ask Me Anything Evan dished about coming out in high school, what it's like being a Helix Exclusive and his dream to become a (hot) lawyer. I for one want to see that tight ass in a suit…Evan Parker for President anyone?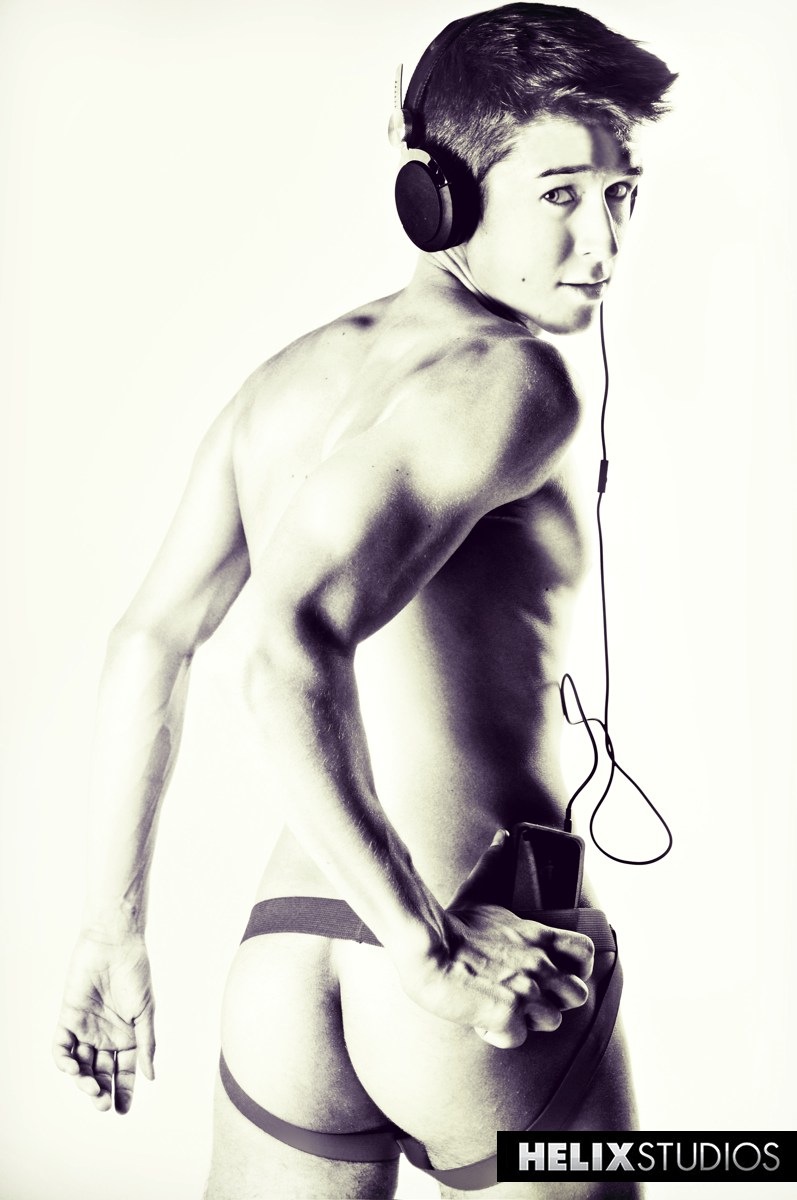 So, what was it like growing up gay in Ohio? I had a great family life growing up and my parents have always been very supportive of me and my life choices especially when I came out during my Sophomore year. I started having crushes on guys in 7th grade but it wasn't until high school when I met Casey Tanner that I had my first sexual experience.
No way. Casey was your first! Haha, yeah. Our families are close friends and they were having a cookout together. Casey and I snuck away from the party and we were each others firsts but even back then I was dominant so I got to top him. He eventually became my first boyfriend and we ended up coming out to our parents together.
How did coming out and having a boyfriend affect your high school experience? Well…Casey and I were both openly out to our classmates and were still very active and involved. He was crowned Homecoming King and I won Senior Prom King. I also wrestled and captained the soccer and track teams. I felt very supported by our community and even now my Mom knows that I work in porn and how much I enjoy it.
How is it that so many of the Helix boys: you, Casey, Christian Collins, Roman Daniels, Connor Kline; are all from Ohio? I don't know, I guess Ohio breeds well 😉
Maybe breeds well for big dicks! Haha Christian has a really thick penis! And Roman, he's a very good friend of mine and I love him to death but let's just say I'm glad I haven't had to take his dick because even giving him head was ridiculous 🙂
What's it like having sex with your friends? It's not awkward or weird like you might think. Guys put so much pressure on themselves to preform sexually that it actually makes it easier and more fun knowing each other. If anything we're all closer now.
What's it like filming with people who aren't your friends? When I first started working at Helix I didn't know anyone except Casey and Roman. My very first scene was with Max Carter which ended up being really funny….I was new and didn't think I came that much when I climaxed so the directors were telling me to make sure I got it on Max. I stuck my throbbing dick in his face and shot him right in the eye! Everyone was laughing and Max kept saying "I thought you don't cum much!"
Haha that's a great way to make new friends 🙂 Haha yea, it was my bonding moment with Max 🙂 I've cummed six times in one day before so I don't know why I thought I wouldn't have a lot of cum. A similar thing happened when I was filming "Jessie's Flirty Fuck" with Jessie Montgomery….We were getting close to the big finish but Jessie got confused and came early. The camera guys weren't ready for his cum shot and everyone was like "What the fuck just happened!" It's those kind of silly and personal day-to-day experiences that have made the Helix models some of my closest friends. They're a big part of my support system and we're all just trying to help each other figure out life.
Have any other amusing porn outtakes? When I first started filming one of my fantasies was to do an outdoor scene and a few weeks ago the camera guys obliged saying we were going out to the woods. Now, being from Ohio I thought the woods meant an actual secluded forest with trees. Nope, we just went down some dirt trail in the canyon and laid out a sleeping bag on a bunch of brush and rocks. I started doing my thing with Nicholas and even though we had a secret "stop the sex & cover up" code word there were still a bunch of people walking by. It was probably more awkward for them then us.
Can't imagine that was in your fantasy or your idea of working at Helix 🙂 Haha actually I wanted to work at Helix because I thought Kyle Ross was super cute. My scene with Kyle ("The Party Continues…") will always be special to me and I'm thankful we're good friends now. I've learned so much from him and we've done a lot of growing together. Kyle is a very passionate and energetic person in all aspects of his life and I love his creativity when he's having sex, the way he can roll from moment to moment in a very natural manner. He's a great communicator and makes you feel really good about yourself 🙂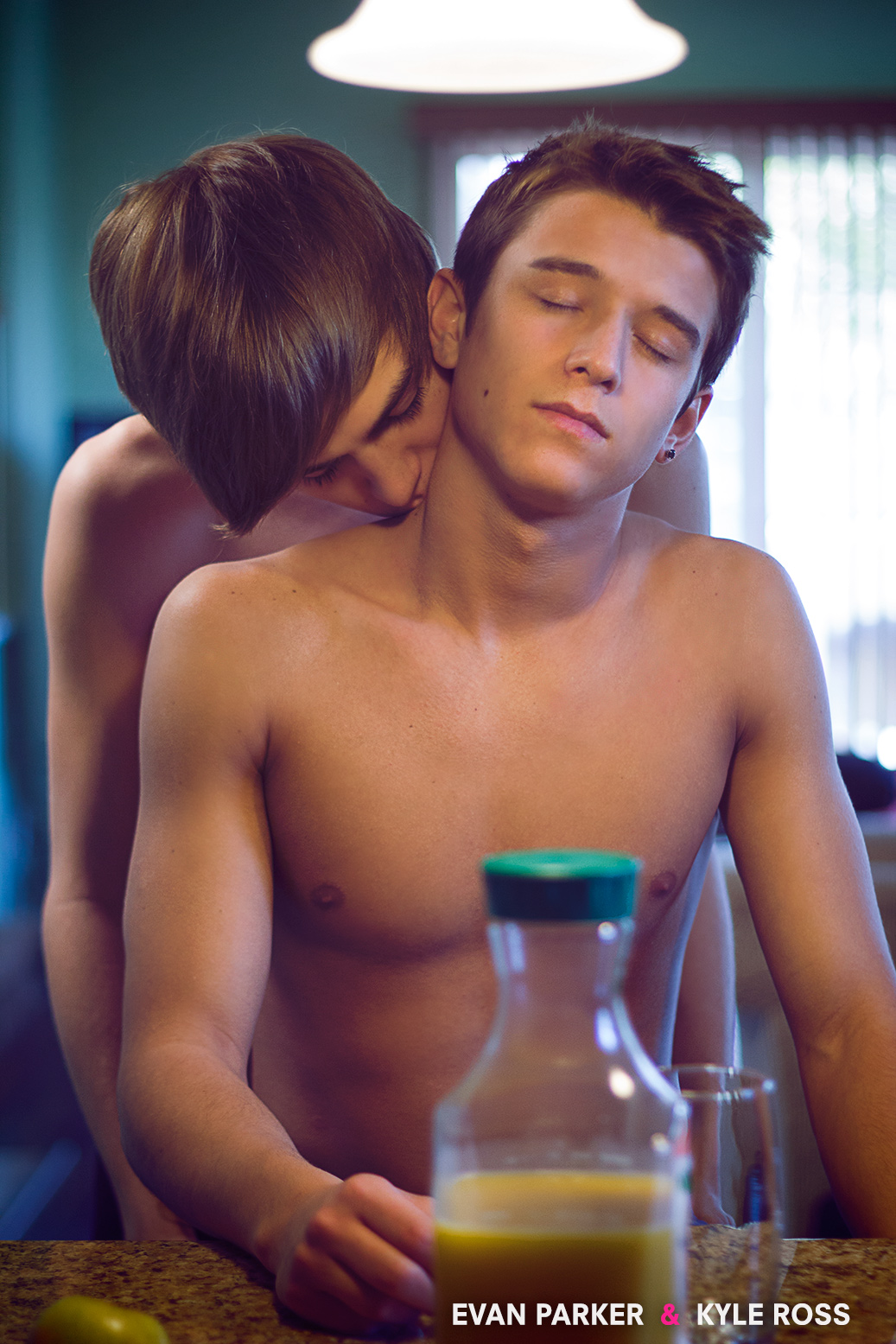 You should feel good about yourself Evan, you look great! Thank you! I've been hitting the gym and focusing on abs and lifting more, I'm 5'9″ 125 Ibs and am hoping to put some weight on.
What are you going to do with those nice big muscles? Go after my celebrity crush Paul Wesley!
Excellent. Thank you for your time Evan. Before I let you go just two more questions: What are your fetishes and what are your dreams? I really like feet and have learned to like spanking since being at Helix. I have big feet for my size (ha) and they're very sensitive like my nipples so that's definitely a turn on. I also liked spanking Kurt in "Evan Parker's Deviant Dungeon" and wouldn't mind getting spanked myself. As far as my dreams, they are not in any way related to my fetishes as I believe you were implying. But since you asked, I'm preparing to go into Pre-Law. I'm not sure what I want to specialize in yet but that's one of the reasons I enjoy working in porn: my work has allowed me to save money for college and gain valuable perspective on what's important in my life. My fans and friends give me so much love and support and they help me continue to move forward. I really am grateful for every one of them 🙂
You can follow Evan @EvanParkerXXX