Kyler Ash has always been an East Coast boy at heart and with the news that he's moving back to New York after one more wild party weekend for San Diego Pride, a Kyler retrospective seems in store. Having graced the cover of three Helix Studios films and featured in 30 highly regarded scenes (with just about as many hair styles!) it's evident that Kyler is popular with the fans. I caught up with the fun-loving twink in the studio and one thing remains absolutely clear: the Kyler you have come to know onscreen is the same young man you'll find cooking for his friends and getting crazy at the club:
First off, how big is your dick? Exactly 7″. I even measured it on camera. My longtime fans can confirm…they asked for a mold of my cock so I sent it to one of them. I love giving my fans what they want 🙂
In your most recent solo "Kyler Fucks Himself" you actually stick your dick in your own ass. How did that 7″ feel? I never imagined what my own cock felt like! Now I just feel bad for all the twinks that had to bottom for me.
Were you always a top? For my very first scene when I started filming with Helix I was supposed to bottom but when the other guy couldn't get it up I did what any good sex partner would do and improvised. Even though I had never topped before I fucked him good.
So do you like flip-flopping? I like topping more but "Flip Fuck Live" with Aiden Summers was fun because of the control I have during Live Shows to respond to what the audience wants to see. I have a big dick and can fuck forever but the variety that comes with flip-fucking keeps things interesting and it's nice to take a break and let the other guy do some work for a while. I've also started using anal numbing cream which is amazing. (Read more Porn Star Pro Tips)
Who's got the biggest dick that you need to use anal numbing cream? Well, for the models I've filmed with, Roman Daniels has the longest Helix cock which is why "Attack of Dickzilla" is funny and Christian Collins probably has the thickest. You only need to rub a small amount of anal cream on your asshole and as you start fucking it gets pushed deeper and deeper. It works wonders 🙂
You really do know how to surprise us Kyler 🙂 Speaking of which, your hair is different every time I see you, what's up with that? I'm a cosmetologist so that's part of it but on a deeper level a big driving motivation for me is to always stay fresh and keep improving myself. Whether it's changing my hair or going to the gym or coming up with new positions it's all about going forward and continuing to get better. That's one of the reasons I'm moving back to New York. And like I've said, I always want to give the fans something new but I also really want them to know that even with all the change, the Kyler Ash they have come to know from the Live Shows is the real me. I'm exactly the same crazy, funny and truthful person with the audience as in real life…when I'm naked on camera what more of me is there to hide?
What are some of the positions you've come up with? The best was getting Chase Young to hang from a tree branch as I fucked him. I didn't invent the 'Pile Driver' but in "Beach Bum Sex" I put Luke Allen into that position on the fly and everyone really loved it, still one of my favorites.
You've done a few outdoor scenes, what's it like having outdoor sex? "Outdoor Afternoon Delight" with Chase was fine except for the fear of getting arrested but the second scene I ever filmed was "Outdoor Threeway" and I was really nervous about the whole thing. It was my first time having outdoor sex, first threesome and I had just started topping. I was worried that people would hear us moaning over the fence and the angling & positions when you're in a threeway can be difficult.
That's a lot of first times for one scene 😉 I know you haven't seen the "First Time Outtakes" video but I have to ask you about it, especially because you keep saying how you're 'All big dick and no ass':
What do you think? No comment, haha.
You're on the cover of First Time Remembered and have been in "First Time" scenes with Derrick Porter and Max Carter, what's it like reenacting your first sexual experience? Derrick was one of the first models I met at Helix Studios and Max and I are also close friends. It was a cool process reflecting back on my first time as a teenager and thinking about where I am now having sex with seasoned models like Derrick and Max. It's those kind of things that give you perspective in life and I really think it helped shooting those scenes with close friends.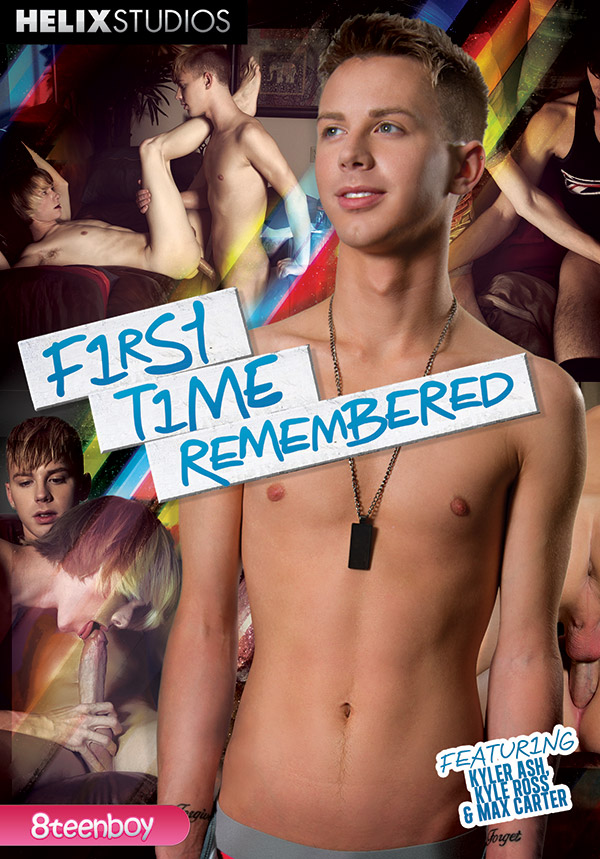 What other kind of scenes do you like? Scenes that allow the audience to insert their own fantasies and desires into what I'm doing. I like to leave some clothing on to give the sex a niche feel which is why I like sport jock porn where they're all wearing football gear or something. It's very real and raw, like I could walk into a locker room and just whip out my dick and have sex with a hot jock.
What other fetishes do you have? Do you get turned on by spanking? I only spank when I fuck and I like it more when it's really fetishy spanking. As far as other fetishes, I like to cook so being drizzled in food or covered in flour is a huge turn on for me. Toys are fun and I used some of mine in "Kyler Fucks Himself" which was the first time a butt plug fit all the way in my ass.
Your personality really shines through during your Solos and Live Shows which I think is why they're so highly rated. Solos and Live Shows are awesome! I get to do what I want and it's my job to make sure everyone is entertained. I am definitely in my element being spontaneous and keeping things moving, that's how I came up with the idea to cum on my own face for my first Live Show. But it's about more then just the moaning, I love talking with the fans and answering their questions. I'm truthful and like to get to know the audience so it becomes a real relationship and I feel the fans care about me in a way that's separate from the sex.
What was it like during the Live Show Orgy? It was great because I ended up on the DVD cover, haha 🙂 To be honest we had tons of fun and the best thing about an orgy is whenever you get bored you just move on to fucking the next boy. Plus I love how all the attention was on me when I came.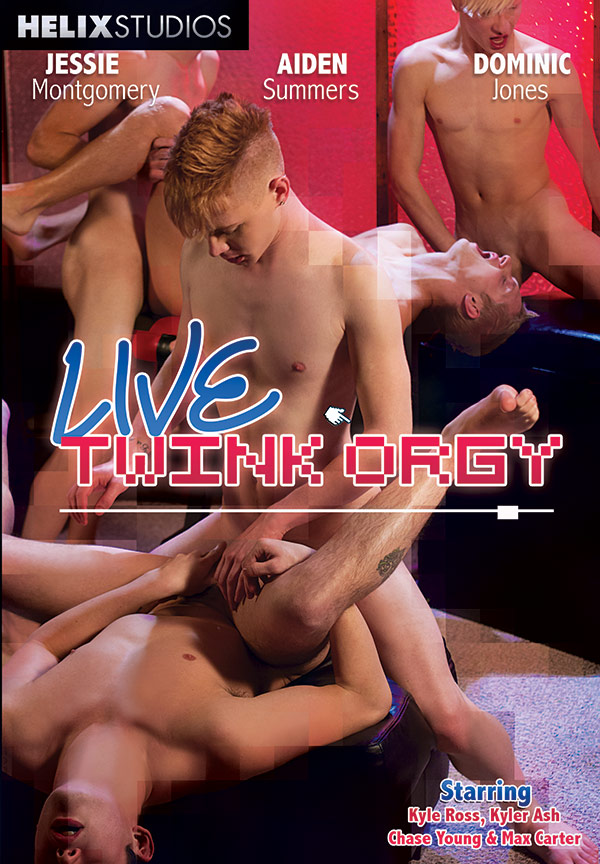 Anything else you would like to share with your fans? I really appreciate all of my fans and the little things they do to show they care. The fan art I receive is amazing! And it means a lot that they keep up with how I'm doing and not just who I'm fucking. Porn can be taboo and I've never wanted to be ashamed of my work or be the guy who only shoots one scene. I've tried to be very intentional about owning my decision to be in porn and embrace it as a career, which I could not have done without the support of my fans. Thank you to everyone who has helped me get this far, I LOVE YOU ALL and will be in touch from New York!