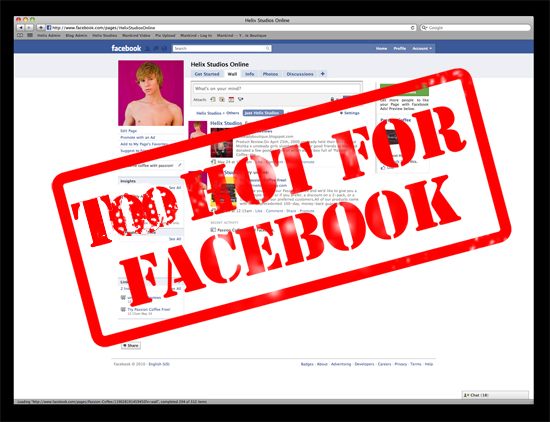 For all those Facebook fanpage lovers, we regretfully announce that our second attempt at a Helix Studios fanpage has been taken down. Facebook's response to our emails questioning the take down were as followed:
You created a Page that has violated our Statement of Rights and Responsibilities, and this Page has been removed. Facebook Pages may only be set up for the purpose of promoting a business or other commercial, political, or charitable organization or endeavor. Examples of acceptable entities include non-profit organizations, political campaigns, bands, and celebrities. Additionally, Pages can only be created by an authorized representative of the entity or individual that is the subject of the Page. Among other violations, Pages that are hateful, threatening, or obscene are not allowed. We also remove Pages that attack an individual or group or that promote or glorify violence, intolerance, racism, or discrimination. Continued misuse of Facebook's features could result in your account being disabled.

Unfortunately, for technical and security reasons, we are unable to provide specific information about the removed content.
Helix Studios will continue to post behind the scenes and extras right here on the Helix Studios Blog where you can comment and keep a dialog with fellow Helix Studios fans. Check back often as we will be updating more frequently with pictures and info you won't want to miss!